EspañolMillions of Venezuelans inside and outside the country took to the polls today to choose the 167 lawmakers that will form the single-chamber National Assembly. The election took place amid severe economic woes, and dissatisfaction with the ruling United Socialist Party of Venezuela (PSUV) was higher than ever before.
Most polling stations opened at 6:00 a.m. local time. Some voting booths, however, remained closed as late as 10:00 a.m., either due to irregularities or the absence of National Electoral Council (CNE) technicians, Venezuelans reported on social media.
Voters reported several irregularities throughout the day. Aside from delays at polling stations, PSUV tents were illegally set up near polling stations, and monitors belonging to opposition parties were either attacked or prevented from doing their duty.
Chavistas set up tents, known as "red spots," where they instructed supporters on how to vote. According to Venezuelan law, no gatherings or proselytism of any kind can happen in a 200-metre perimeter of polling stations.

https://twitter.com/OdeLopez/status/673478409914359809/video/1
"Another red spot, this time at La Silsa, in front of the Faith and Joy School."
Enzo Scarano, leader of the opposition coalition Democratic Unity Roundtable (MUD) in Carabobo state, said in a press conference on Sunday that ruling-party supporters beat up three electoral monitors in Valencia.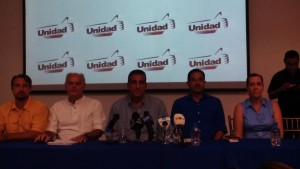 They were trying to enter a voting station in Ciudad Chávez in southern Valencia, Carabobo, when the instigating individuals stopped them. Yaneth Sayegh, the polling station's coordinator, and a MUD driver were also injured in the assault.
In another episode of violence, on Saturday morning criminals murdered a National Bolivarian Police sergeant inside a polling station in Caucagüita, Miranda state. Local media reported that the men opened fire at state employees as they attempted to set up and secure the area.
The outcome of the congressional elections will determine who will represent Venezuela's 24 states in the legislative branch, and polls predict the ruling party will lose the majority it has enjoyed since 1999.