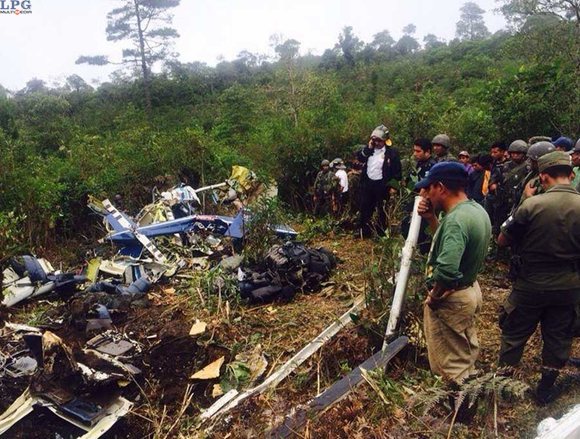 EspañolOn Wednesday afternoon, Guatemala's armed forces suffered a number of fatalities. A helicopter crash near the northwest border with Mexico killed the head of the Guatemalan military's joint chiefs of staff, General Rudy Ortiz, along with four other military officers.
Defense Minister Manuel López Ambrosio said the plane went down in the village of El Aguacate, over 400 kilometers from Guatemala City, in the mountainous western province of Huehuetenango. López identified the other four victims as General Braulio Mayén, Colonel Rony Adolfo Anleu del Águila, Colonel Juan de Dios López Gómez, and Major Selvin Ricardo Raymundo Donis.
Ortiz led the operation, as the team flew a Bell 206 helicopter to the town of Ixquisis, where the two generals were to meet with other troops in the area, López said. "They couldn't land in Ixquisis and instead decided to go to the military base in Las Palmas and in that trajectory the helicopter crashed," said the minister.
The cause of the crash is still unknown, and López declined to comment on whether a may have been some sort of attack. "We can't speculate about the causes [of the crash] because the helicopter was in good condition, according to the air force," he said. "We have a complete investigation underway, and our military personnel are on their way to the area."
Presidente Otto Pérez Molina y miembros del Ejército rinden honores a militares fallecidos hoy en Huehuetenango pic.twitter.com/l1UY7MdX43

— Gobierno Guatemala (@GuatemalaGob) August 21, 2014
President Otto Pérez Molina and members of the armed forces pay tribute to today's fallen officers in Huehuetenango
Guatemalan President Otto Pérez Molina sent his condolences for the deaths of the five military officers via his Twitter account. The President also paid special tribute to General Ortiz and his service. "His hard work and dedication during his military career served to strengthen the institution."
Sources: BBC, ABC, Fox News Latino.