EspañolThe Venezuelan Association of Foreign Journalists (Apevex) put out a statement on Wednesday denouncing the government of Nicolás Maduro over their attempts to "silence journalists and independent media."
In the last week, the Venezuelan government shut down the Radio Caracas Radio (RCR) program Aquí entre tú y yo (Between You and Me) and suspended the 22-year-old independent radio station Sensacional 94.7 FM.
The Venezuelan Telecommunications National Commission (CONATEL) suspended the RCR program over allegations that it violated the country' controversial Law of Social Responsibility for Radio, TV and Electronic Media, which prohibits certain kinds of political speech. CONATEL cites several possible "violations" in which the program's host Nitu Pérez Osuna, her guests, or callers to the show called President Maduro a "dictator," "drug trafficker," and "assassin."
Only days later, CONATEL shut down Sensacional Radio after refusing to renew their broadcasting license. CONATEL officials, along with members of the National Guard, arrived at their studios on Tuesday and ordered them off the air. Hours later, a new radio station, called Radio Popular, began broadcasting music from Sensacional's old 94.7 FM frequency.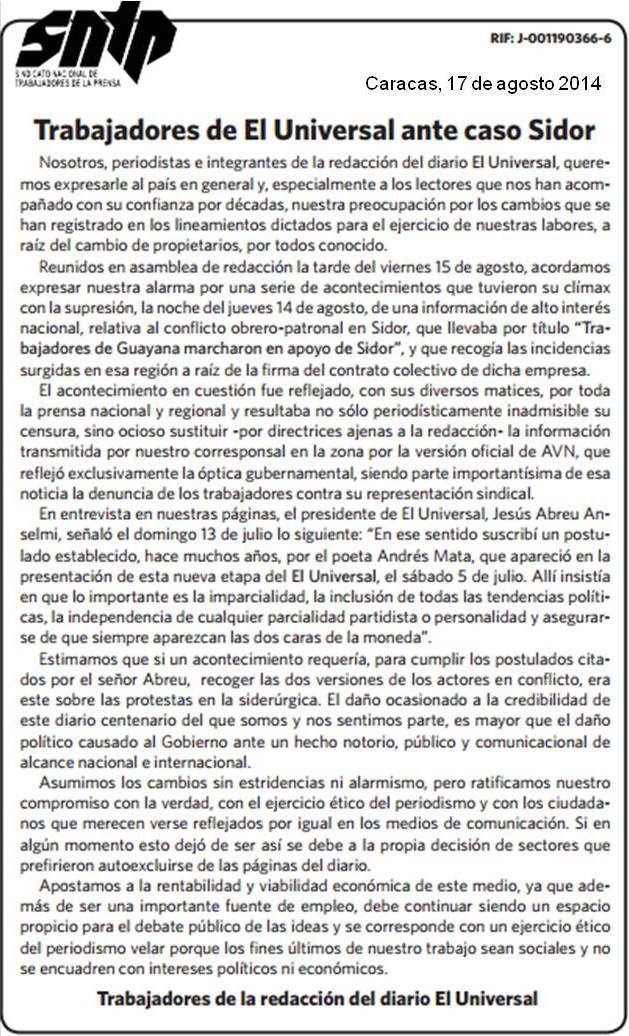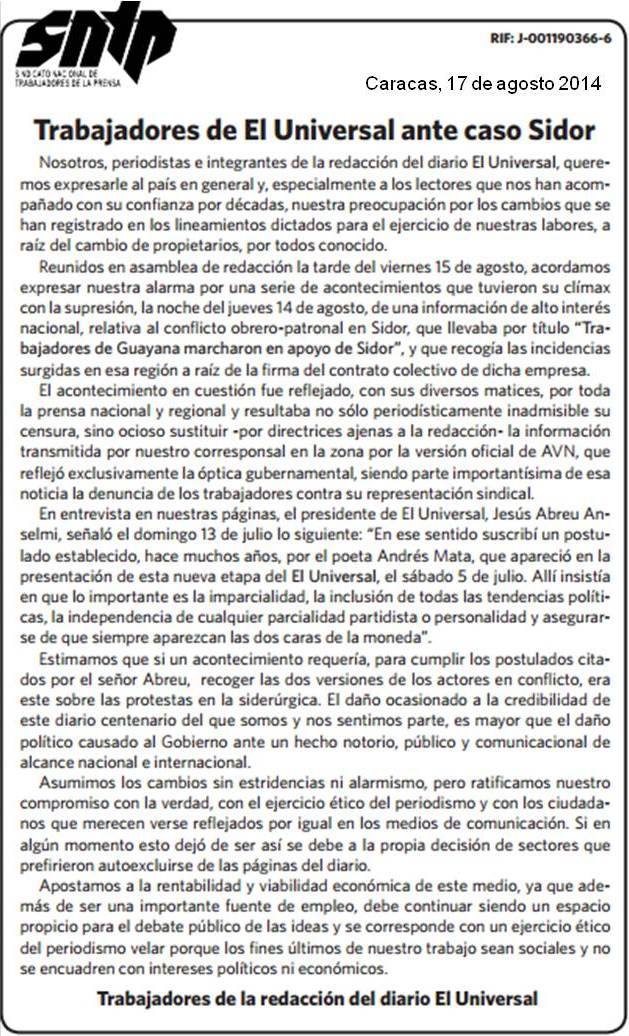 "The official censorship also appears to have some allies in private media, as shown by a recent complaint made by the journalists and editors of the newspaper El Universal," said Apevex.
The El Universal employees expressed their concerns in a press release stating that "a series of events reached its climax on the evening of August 14, with the deletion of information of high national interest regarding the labor-management conflict in Siderúrgica del Orinoco C.A. (Sidor)."
Instead of the original news story that revealed details regarding the collective contract agreement with Sidor workers, it was replaced with the government's official version of the events.
In their statement, Apevex calls on regional and international journalist organizations to condemn the Venezuelan government's "serious violations of freedom of information, speech, and the press."