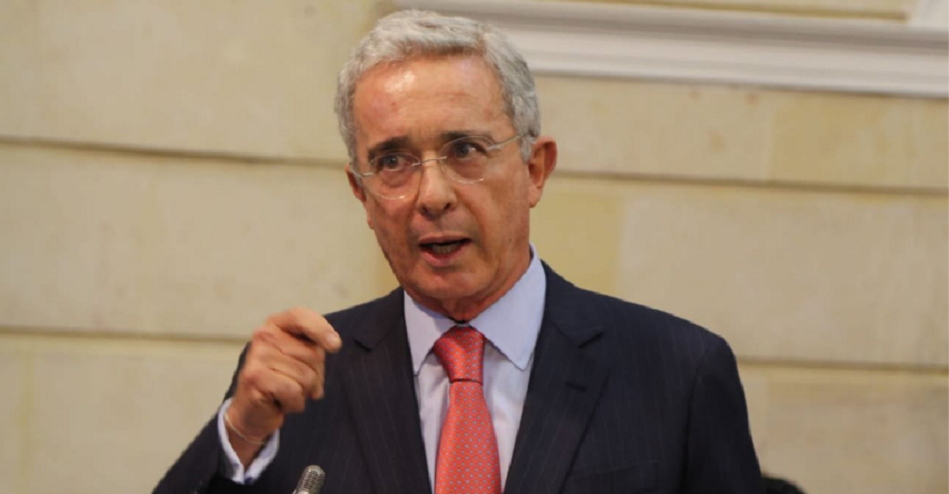 Spanish – Former Colombian President Álvaro Uribe Vélez warned about how the deployment of Nicolás Maduro's allies affects politics in the region on a large scale. An example of this is Colombia, where the senator warns that the "Venezuelan regime has many delegates."
Uribe had no qualms about accusing Nicolás Maduro. The Colombian politician has, on multiple occasions, called attention to the fact that he allows these spokespersons and promoters of socialism in his country who, in his opinion, are "struggling to take power."
"In my country, there is a hidden Chavismo, which is in total agreement with (the party) Podemos," he said in an interview with the Spanish newspaper El Mundo. Moreover, he called any action by the party of Spanish leftist Pablo Iglesias in the region "harmful interference."
Likewise, Uribe, as a Colombian senator, also spoke with concern about an "overlapping neo-communism" in his country. He said that if these "delegates" who are now supported by the Venezuelan regime were to enter the Colombian government, it would do "enormous damage" to democracy, as well as to the economic and social possibilities of the region.
"Stabilization of the dictatorship" in Venezuela
The former president also gave other insights that have been key in the multiple declarations he offers against the leftist governments that have ended up recovering certain spaces in South America.
In the international arena, Uribe focuses on Venezuela. The Colombian senator believes that the sanctions imposed by the European Union so far have served little purpose. He added that currently, "the Venezuelan regime seems stabilized" thanks to oil, gold, remittances, "drug trafficking and repression."
"These regimes have historically shown that dialogue is a way for them to become stronger," Uribe said. This is a constant not only in the former president's discourse but in many political analysts who have studied the pattern of the Venezuelan regime and also the opposition.
Nonetheless, he always harbored the "hope" that the Armed Forces would remove the support of President Nicolás Maduro "to defend democracy." But this "has been thwarted."
"I am pessimistic about any exit and very pensive about the fact that this dictatorship is stabilizing," he concludes.
A look at the socialist leaders
The victory of the Movement Towards Socialism (MAS) party candidate Luis Arce in the Bolivian presidential election has raised concerns about the possible rise of the left in the region. On this front, Uribe stressed that the current president has the recognition of having been "a good finance minister."
Instead, by focusing on the issue of Evo Morales and his figure in national politics, the senator assures that the former Bolivian president's exit from power was "more a matter of corruption."
Finally, he expressed his appreciation to the Bolivian Armed Forces for being "zealous about taking care of the Constitution."
As for the Colombian government of former president Juan Manuel Santos, Uribe emphasized that it was "submissive" to Podemos and that it did not reach a peace agreement with the FARC "but rather one of impunity for some terrorists," which has led to issues that have generated "much violence… the violence of drug trafficking."
Uribe accuses the second deputy prime minister of Spain, Pablo Iglesias (leader of Podemos), of taking on an  "offensive intervention" role in Latin American politics, something "very serious," he says when asked about his recent trip accompanying the king of Spain to the inauguration of the president of Bolivia.
Finally, on the judicial accusations he faces (related to procedural fraud, bribery of witnesses, and paramilitary killings), he defends himself with grief because his reputation has been "unjustly affected."