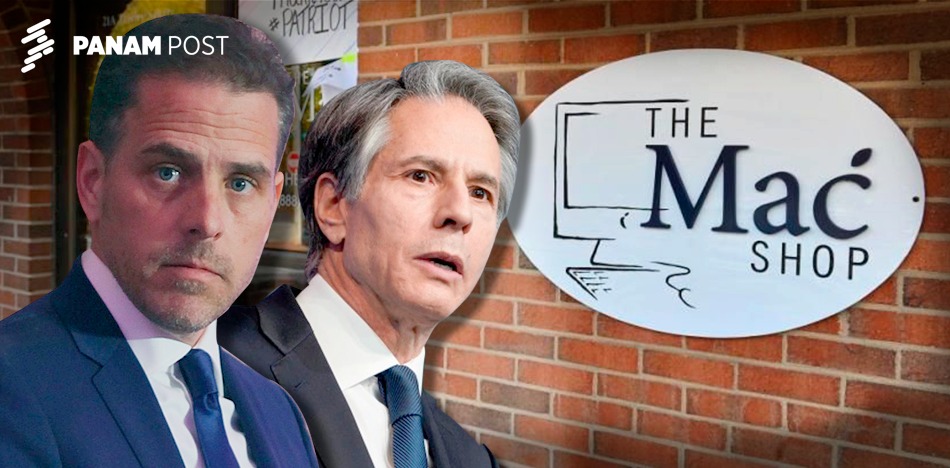 Spanish – The scandals involving Joe Biden and his son Hunter continue unabated. The virtual winner of the presidential election – according to media projections – nominated Antony Blinken, a senior official in the Barack Obama administration, as his eventual secretary of state. In 2015, Blinken exchanged emails with Hunter Biden to give him some "advice." This date coincides with that of the communications revealed by the New York Post about alleged traffic of influence that complicates then-Vice President Biden and his son.
The publication now reveals that Hunter Biden sent an email to Antony Blinken, then-Deputy Secretary of State, on May 22, 2015, to request a meeting, according to information released by Fox News. "Have a few minutes next week to grab a cup of coffee? I know you are impossibly busy, but would like to get your advice on a couple of things."
According to Fox News, Blinken responded, "Absolutely." And then they exchanged other messages about the time and place of the meeting.
Five days later, Blinken's assistant emailed Hunter Biden that the meeting was set for May 27 at 3:30 p.m. That meeting did not take place. The Washington Post reported that by that time, Hunter's brother, Beau Biden, was suffering from brain cancer and actually died a few days later, on May 30.
In July 2015, Hunter Biden and Antony Blinken finally met to talk "about Beau and the Biden family." According to one person familiar with the meeting quoted by the Washington Post, the subject of Burisma, the controversial Ukrainian energy company in which Hunter Biden earned 50,000 USD a month for his board position, was not touched upon.
The emails between Hunter Biden and Antony Blinken were obtained last year in response to a Freedom of Information Act request, Fox News said.
Senate Investigation
The Hunter Biden scandal that spills over to his father was highlighted in a Senate report released on September 23. Committee on Homeland Security and Government Affairs Chairman Ron Johnson and Finance Committee Chairman Chuck Grassley presented a report on Hunter Biden's overseas business. Besides participating in the board of directors of Burisma Holdings LTD, in Ukraine, million-dollar payments were also revealed that he allegedly received from Chinese and Russian citizens with questionable backgrounds.
The New York Post subsequently published the emails found on Hunter Biden's computer with details confirming the senators' allegations. According to the information, Hunter introduced a senior Burisma executive to his father when he was still serving as vice president. This reportedly occurred less than a year before Joe Biden pressured Ukrainian government officials to fire a prosecutor who was investigating the company.
The compromising laptop
Last October, John Paul Mac Isaac, owner of The Mac Shop computer repair shop in Wilmington, Delaware, said a man identified as Hunter Biden had left him to repair a MacBook Pro in April 2019.
As the deadline for removing the equipment passed without anyone showing up to pick it up, the business owner provided a copy of the hard drive to Rudy Giuliani, former New York City Mayor and attorney for President Donald Trump. In this way, the information later came into the hands of the FBI, as well as a receipt that seems to show Hunter Biden's signature.
Closing the workshop because of death threats
This move seems to have had consequences for the owner of the computer repair shop. John Paul Mac Isaac closed the business and had to move out of town because of alleged threats received after the election. On Tuesday, his lawyer told the Delaware News Journal that his client received death threats after November 3. An unidentified neighbor later confirmed that John Paul Mac Isaac left town, according to the Daily Caller.
Doing a quick errand in Wilmington, Del. brought me by the famous Mac Shop. It's closed. pic.twitter.com/KYYFCpxuYs

— Annie Linskey (@AnnieLinskey) November 24, 2020
The disclosure of this information in the middle of the presidential election campaign, added to the unusual origin of the computer, led many media to speculate that the scandal was false and only sought to harm the Democratic candidate.
The Daily Caller adds that in October, the Associated Press reported that the FBI was investigating whether the emails were connected to a foreign influence operation. However, the director of National Intelligence, John Ratcliff, later denied this premise. Additionally, a cybersecurity expert cryptographically authenticated a crucial 2015 email that Hunter Biden received from a Burma executive, in which they discussed a presentation by then-Vice President Joe Biden.