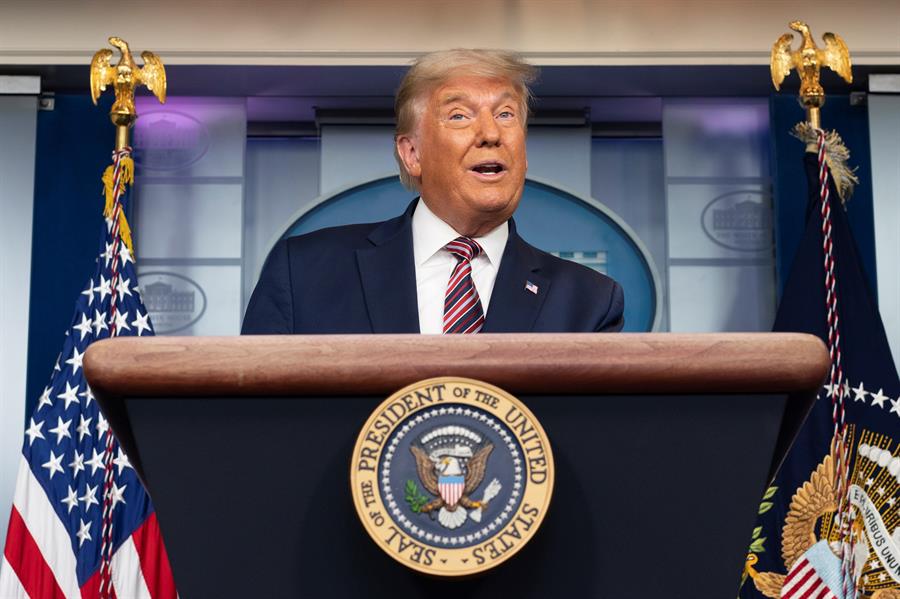 Spanish – The U.S. President, Donald Trump, does not spare any adjectives when it comes to talking about the alleged irregularities in the November 3 elections, and he called them "a total fraud."
That is why his campaign keeps a series of legal battles that remain active in at least six states, even though it has been several weeks since the election.
During an interview on Fox News' "Sunday Morning Futures," the first he has given since the presidential election, the U.S. president was clear and precise: "This election was rigged… This election is a total fraud."
Trump, in his interview that lasted more than 30 minutes, spoke of what he has cataloged as fraud and described how this procedure was done, referring mainly to the topic of the mail-in ballots, as well as the vote-counting machines.
"The ballot box was full… Joe Biden did not get 16 million more votes than Barack Hussein Obama; he did not. Joe Biden would not get 14 million more votes than Hillary Clinton."
Blaming the Justice Department
The U.S. president also charged the Department of Justice (DOJ) and the FBI. He accused the DOJ of being "missing in action" regarding the alleged election fraud.
The FBI was also the subject of his complaints. Trump said that "you'd think if you're at the FBI or the Department of Justice, this is the most important thing you could be looking at … Where are they? I haven't seen anything."
In this interview, he also highlighted the intervention of the company Dominion Voting Systems. This company has been the primary target of Trump's darts since his personal attorney Rudy Giuliani accused them of allegedly manipulating the calculations.
"With all of the fraud that's taken place, nobody has come to me and said, 'Oh, the FBI is looking at Dominion,' which nobody even knows where they are based, which nobody even knows where the votes are counted," Trump said.
Earlier this month, Dominion Voting Systems responded to accusations made by Trump's top attorneys of electoral fraud and foreign interference through voting software.
However, citizens continue to doubt the existence of a robust relationship with Smartmatic, the company founded in Venezuela under the regime of Hugo Chávez, which has been accused of rigging elections in the Caribbean country since 2004, according to a witness present in the lawsuits filed by Trump's campaign, as well as lawyer Sidney Powell.