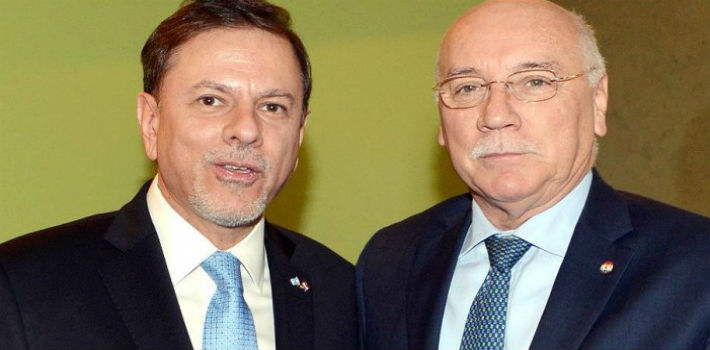 EspañolParaguay wants to develop a waterway shared with Argentina, but of late the project has fallen into disagreements and misunderstandings.
The problem started when Argentinean ambassador Eduardo Zuain said last week the country decided not to approve the extension of an agreement relevant to the project: the Memorandum of Additional Understanding of the Assistance Agreement. It involves a plan between Paraguay and the US, whose United States Army Corps of Engineers would provide technical advice for the project.
Article VII of the agreement references security for personnel and equipment, using "military units, facilities or other work areas specifically designated for that purpose."
The agreement also involves a US investment of US $16.5 million.
Zuain sent a note to Senator Miguel Abdon Saguier reminding him that the project covers a stretch of river shared with Argentina and that there is a 1969 bilateral agreement regarding channeling, dredging, buoyage and maintenance of the Paraguay River.
Abdon Saguier Zuain warned him about the implications of the approval of the Memorandum by the Paraguayan Senate.
Chancellor Loizaga was reportedly heavily criticized for not taking into account everything mentioned by the Argentine ambassador.
The foreign minister was summoned by the Senate to give an explanation about the commitments that Paraguay and Argentina share in relation to the Paraguay-Parana waterway.
Loizaga was reportedly very upset with the Argentinean ambassador for sending the note. The chancellor said Zuain erred in his presentation of his ideas, saying the agreement "should be limited to fulfilling its functions under the provisions of the Vienna Convention."
He also lamented the position of Paraguayan senators who "have been influenced" by the Argentinean ambassador.
Mauricio Macri's administration reportedly has no intention of creating a controversy over the issue. The chancellor will not speak until the negotiations progresses.
Foreign Ministry diplomats experts have reportedly warned that Paraguay progressed with this Memorandum in shared waters without informing Buenos Aires.