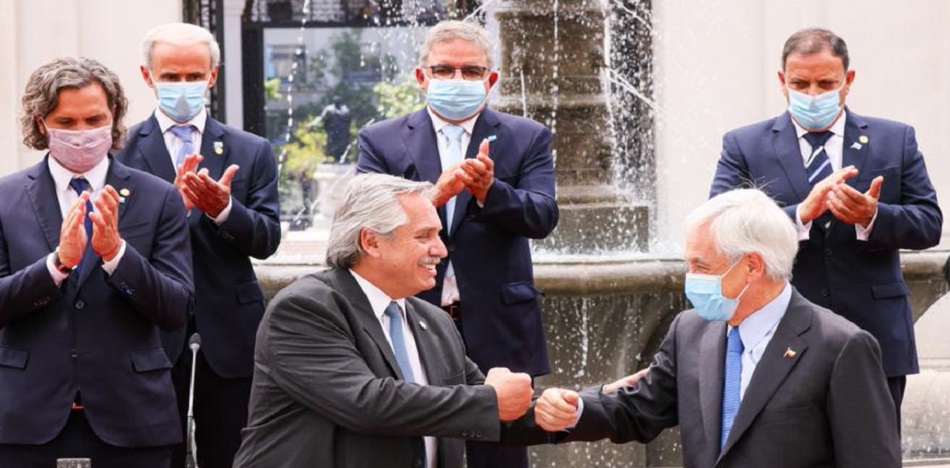 Spanish— If anything showed the lack of direction and the internal differences of the Peronist/Kirchnerist Frente de Todos, it was the position on the Venezuelan drama. In a year of tenure, Alberto Fernández's officials kept contradicting each other and making a fool of themselves. One day, they say that Chavismo is democratic; the next, that it is a dictatorship; in one international forum, Argentine representatives question human rights violations, and in others, they defend Nicolás Maduro.
Now it seems that in the official tours of the Argentine president, the bipolarity and the lack of definition regarding the dictatorship is more contagious than the coronavirus. The first statements on the issue by Chilean officials, who are receiving the Argentine delegation, have already been denied by Fernández, himself.
"From a few weeks from now, a common front will be formed, so to speak, where the different instances that are concerned about the transition process in Venezuela will converge in a common strategy." The words belong to Chilean Foreign Minister Andrés Allamand, who commented to the press the issues discussed by the officials of both countries. "This common strategy has as one of the fundamental elements the need for a political solution," assured Piñera's Foreign Minister.
As expected, within a few minutes, the news was on the front pages of online sites, and analysts wondered if this was the beginning of a new stage of the Argentine government. However, when the first journalists were able to approach the president, it became clear that nothing had changed.
"I honestly do not know what the Foreign Minister said, and I would not like what he said to be misinterpreted, but what I can say is that we did not address that issue with President Piñera. We did not touch that subject, but I do not know in what context he said it," said Alberto Fernández. "I don't want to deny it either because I don't exactly know what the Chancellor, whom I respect very much, has said. What I am sure is that I did not touch this subject with Piñera," he concluded.
We will have to see the version of the Chilean authorities, but what is certain is that the Argentine role-playing with everything that has to do with Venezuela is shameful. At least, the rest of the countries know what to expect from official visits of Peronist delegations.