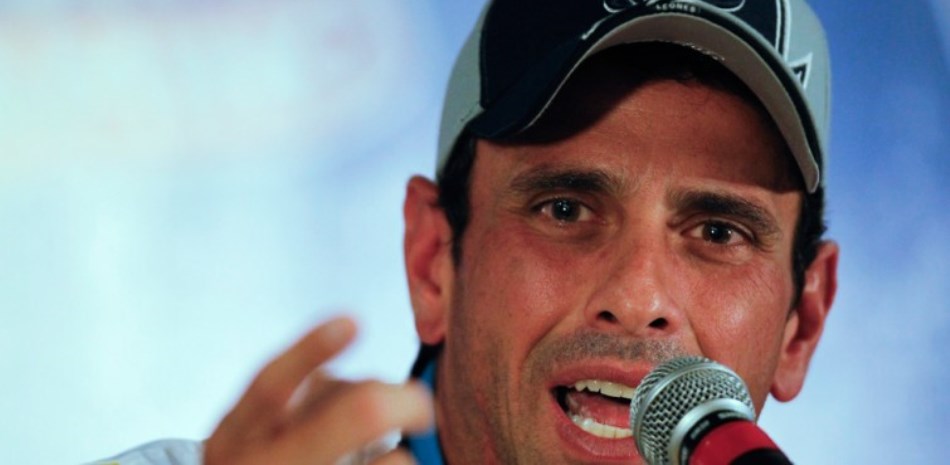 EspañolThe Venezuelan opposition announced a national strike planned for Friday, October 28 and warned President Nicolás Maduro's adminstration that it will hold another November 3 that leads to the Presidential Palace of Miraflores if a date is not set for the recall referendum postponed indefinitely early this year.
"We demand the government reverse this unconstitutional decision," said Governor of the state of Miranda and leader of the opposition Henrique Capriles. "Either you return the constitutional order or we're going to Miraflores on November 3."
Capriles stressed that people are willing to go out into the streets to defend the constitution.
"Tell (President of the National Electoral Council) Tibisay Lucena that in the coming hours, she has to announce the date of an election and let the people decide because if we remain in this coup attitude next week … the people will  mobilize at Miraflores," the opposition leader said.
#ULTIMAHORA | Oposición anuncia Paro Nacional el #28Oct y marcha a Miraflores el #3Nov pic.twitter.com/02FygEFysl

— El Nuevo País y Zeta (@enpaiszeta) October 26, 2016
Opposition announces national strike October 28 and march to Miraflores November 3 
"We stand ready to defeat this dictatorship," said Lilian Tintori, wife of political prisoner Leopoldo Lopez. "We must act together."
The opposition had also called on supporters to rally on October 27 at 10 a.m. at the National Assembly in support of the deputies holding session.
"In the coming sessions, we will declare that Nicolás Maduro has to take political responsibility by abandoning his post, and on November 3 we will peacefully notify Miraflores of this verdict," said President of the National Assembly Henry Ramos Allup.
While in other countries it might be common for dissidents to march to the central buildings of the government, it's a very different case in Venezuela. The last attempt to march to Miraflores was April 11, 2002, and it resulted in death, injury and the resignation of then-President Hugo Chavez.
FEDECAMARAS President Pedro Carmona assumed the Presidency of the Republic for a very brief time after that, making April 12 a historic day.
Now, many years later, something similar looks like it might be taking shape in an effort to restore constitutional order.
Source: Sumarium.