EspañolThe Uruguayan presidential election will be settled in a November runoff, since no candidate passed the minimum 50 percent of votes needed for a first-round victory.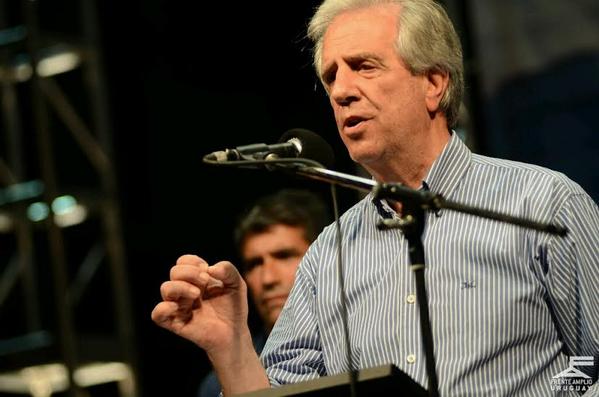 The results gave former President Tabaré Vázquez the lead with 48 percent of the vote, followed by the conservative candidate from the National Party, Luis Lacalle Pou, with 31 percent.
Vázquez, the candidate of the ruling Broad Front Party, will contest the runoff with Lacalle Pou on November 30.
"I want to thank my comrades at the Broad Front, and the people, who were responsible for making this political force the most voted for in Uruguay," said Vázquez.
"We plan to face this new era as the presidency of dialogue and respect for other interests.… to look to the other parties' opinions and ask them for policies as well," Vázquez added, as though already president.
Lacalle Pou, less euphoric than his rival, said that "the illusion is immaculate.… We are going to talk with everyone, provided that we don't get diluted as we negotiate."
"This was not the result we wanted. We are not satisfied," said Pedro Bordaberry of the liberal-leaning Colorado Party, who came in third with 13 percent. On election night, he backed Lacalle Pou as his favorite candidate and described him as "the one who embodies the necessary changes in education and security."
While initial numbers raised doubts over the Broad Front majority in the Congress, later on a narrow victory was became clear. Vázquez could then extend Broad Front rule to 15 years, with the backing of Congress for swift legislative action.
Lacalle Pou, on the other hand, represents a generational shift for the South American nation. He is 31 years younger than Vázquez.
Sources: El Observador, La Nación.