EspañolPresidential elections in Brazil are set for Sunday, October 5, and the latest polls have current President Dilma Rousseff leading the way.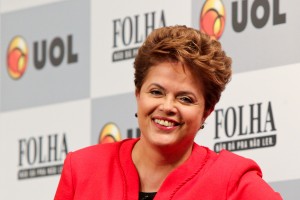 The most recent Datafolha poll has Workers' Party candidate Rousseff winning with 40 percent of the vote. As for her opponents, Datafolha projects 25 percent of the vote for the Brazilian Socialist Party candidate Marina Silva, and 20 percent for Aécio Neves of the Brazilian Social Democratic Party.
IBOPE published similar figures: Rousseff leading with 39 percent, Silva at 25 percent, and Neves with 19 percent.
At the moment, Rousseff has a greater advantage in the north and northwest regions of the country. While the rest of the country remains more evenly disputed between the three candidates, the president still maintains the lead.
In early September, Silva had a clear advantage over Neves, leading by more than 20 percentage points. Current polls, however, shows her lead has dwindled to only 5 points.
Furthermore, IBOPE's research reveals Brazilians are now less inclined to elect a new president. According to their study, 38 percent of those surveyed "approve" of the Rousseff administration; 33 percent believe it is average; 28 percent disapprove; and 1 percent had no opinion.
IBOPE's projections for a likely second round of voting have Rousseff beating out Silva and Neves by an 8 and 10 percent margin, respectively.
Sources: Jornal Do Brazil, Folha De S. Paulo.