EspañolWith less than two weeks before the next general election in Bolivia, candidates for president are making their final push to make their campaign proposals known. On Sunday, the La Paz Journalists Association hosted a debate featuring candidates from all major political parties. Current Bolivian President Evo Morales, however, was not in attendance.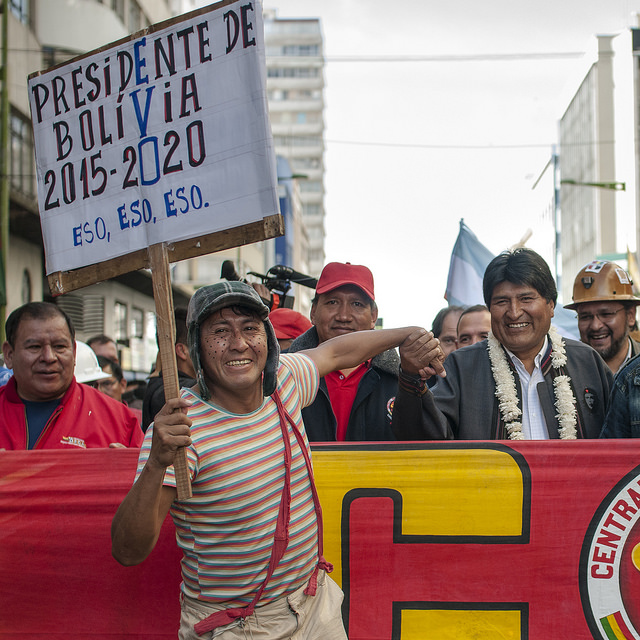 The candidates Samuel Doria Medina (Democratic Union), Juan del Granado (Movement without Fear), Jorge Quiroga (Democratic-Christian Party) and Fernando Vargas (Green Party) all made proposals to increase public spending and create new subsidies.
Doria Medina proposed the creation of a new subsidy to eradicate extreme poverty in the country. He also stated he would reform the Constitution to resolve pending issues regarding judicial power. He further mentioned his intention to restore diplomatic relations with the United States and Brazil, and take Bolivia out of the Bolivarian Alliance for the Peoples of Our America (ALBA).
Juan del Granado proposed increasing public spending in education and health care to US$3 billion, and said current investment in these areas should be doubled. The MSM party candidate also suggested the possibility of voter fraud in the election, saying he has personally confirmed 326 deceased registered voters.
He also promised to conduct studies regarding the amount of coca leaf being used for traditional consumption, and reaffirmed his commitment to battling illicit drug trafficking.
Quiroga, also known as "Tuto," promised to open an investigation to clarify the circumstances which lead to the execution of four individuals in an incident the ruling party deemed a terrorist attack. He also declared he would build "real prisons," and advance a universal health care system for all Bolivians.
Fernando Vargas said his plans include the creation of municipal police departments, in an effort to decentralize the police force. According to Vargas, the Armed Forces should contribute to the country's internal security and not just protect its borders. He also proposed heavy stimulus packages to agriculture and livestock production to move Bolivia away from being a "consumer country." Vargas also stated his goals to fund "green energy."
The elections will take place on October 12.
Source: Página Siete.