EspañolOn Monday, the Nicaraguan government approved the route for the future canal that will cross the country and unite the Pacific and Atlantic oceans. The announcement was made by businessmen from the Chinese firm Hong Kong Nicaragua Canal Development Investment Co. Limited (HKND) and government officials, who explained that the new pathway aims to share naval trade with Panama's canal. Construction for the new route is scheduled to begin in December.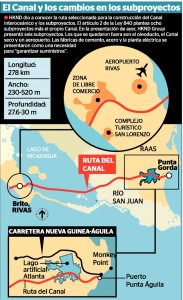 The estimated cost of the project by HKND, headed by businessman Wang Jing, is over US$40 billion. The canal will be 278 miles long, beginning at Brito River on Nicaragua's Pacific coast and exiting at Punta Gorda in the Caribbean.
"The project is scheduled to begin construction in December, and it should be completed in 2019 to become fully operational in 2020," explained Telemachus Talavera, one of the members of the Committee for the Development of the Grand Canal. "Now a specific study has to be carried out on the route approved today by the Committee."
The so-called "Route 4" includes two ports (Pacific and Caribbean), a ​​free trade zone in Brito, a tourism resort in San Lorenzo, Boaco, an airport in Rivas, and a network of new roads to connect all sub-projects.
The canal will be between 27.6 and 30 meters deep, and 230 and 520 kilometers wide at its narrowest and widest points, said HKND project manager, engineer Dong-Yunsong. In June 2013, the Nicaraguan government granted the planning, construction, and management of the ambitious canal to the Chinese group through a renewable 50-year concession.
According to details provided by Dong-Yunsong, the canal will not pose a threat to water resources because "the water collected from the river basin at Punta Gorda is sufficient for the operation of the canal." HKND estimates that each ship will take around 30 hours to cross Nicaragua and that 5,100 ships a year will use this route to connect markets in Asia to western North America.
Sources: Reuters, La Prensa Nicaragua.