Schoolgirl friends with fathers on separate sides of Chile's historical political divide are set to face off in the country's 2013 presidential election.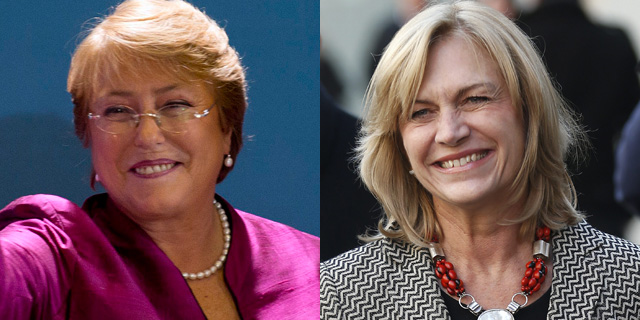 Last week, Evelyn Matthei, whose father was a member of the military junta during General Agusto Pinochet's dictatorship, became a second choice candidate for the market-oriented Unión Demócrata Independiente. Unfazed by Pablo Longueira dropping out of the race due to ill health, the party named Matthei, an economist and a former Labor Minister under current Chilean President Sebastian Pinera, for a race that is seen definitely in favor of former President Michelle Bachelet.
Earlier this year, Bachelet, who served as Chile's first female president from 2006 to 2010 and whose father was tortured and killed during Pinochet's regime, accepted the nomination of the Partido Socialista de Chile and the "democratic" coalition to win back the presidency.
As children, both women were close and attended the same school. Their fathers, both fighter pilots, were stationed at the same base. Pinochet's brutal take-over placed these men on opposite destinies. General Alberto Bachelet, a supporter of former President Salvador Allende's, died in prison in 1974. On the other hand, General Fernando Matthei was in England at the time of the coup, and he came home to take a Cabinet position. General Matthei later insisted that Pinochet accept his defeat in a referendum precursor to Chile's return to democracy in 1990.
"It's an historic dispute between the daughters of a victim of the dictatorship and an active member of the military junta," said Esteban Valenzuela, a political analyst at Universidad Alberto Hurtado in Santiago, reported the Associated Press. Scheduled for November 17, the vote has a possible run-off on December 15.
Sources: ABC News. Read More »;  Reuters. Read More ».