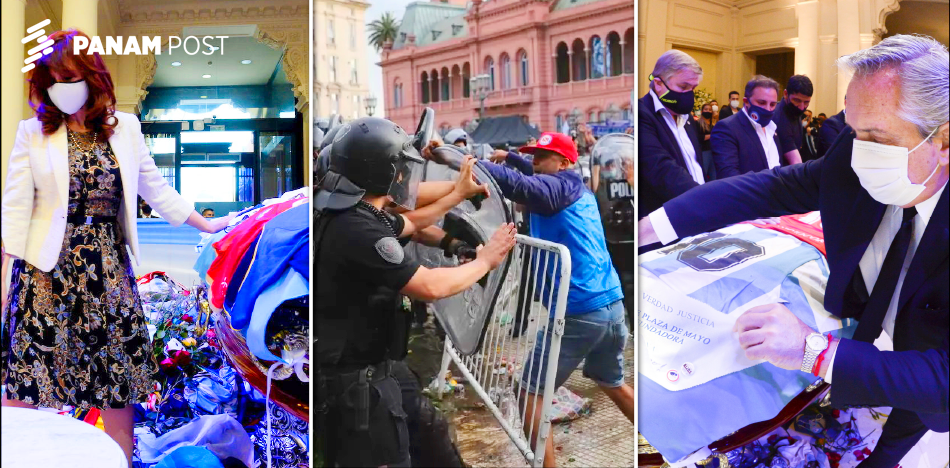 Spanish – Whether it was the government's idea to hold the vigil at the Casa Rosada, or whether it only allowed it at the request of a third party, it doesn't matter. Alberto Fernández and Cristina Kirchner ended up giving the go-ahead for something absolutely unacceptable.
In the eventual case that everything worked out perfectly, the massive event should not even have taken place (least of all in the Government House). They did it and showed that it cost them nothing to throw away what little coherence they had left over the quarantine. Besides, as expected, everything ended in absolute disaster.
In the first few minutes, the celebrities, the president, and his vice president were able to get close and get the photo they wanted. The shots of Cristina in front of the coffin fulfilled their objective. The few critics who were horrified by the embarrassing spectacle on social networks accused the former president of having set up the circus to get her photo while touching the coffin.
As was to be expected, a crowd was present at the Plaza de Mayo, so the time allotted for the vigil ended up being insufficient. When the police sought to end the event, the self-invited, who had been waiting for hours, decided to enter by force, and there were moments of extreme tension.
Kirchner ended up confined to the office of the Ministry of Interior in the company of some trusted officials. Inside the Casa Rosada, the intruders bathed with impunity in the fountain of one of the central patios. Among the things that will have to be repaired and replaced, the bust of former President Hipólito Yrigoyen, head of the Argentine democracy, stands out.
Los bárbaros que entraron a la Casa Rosada (con permiso oficial), rompieron el busto de Hipólito Yrigoyen cuando salían por el histórico salón de los Bustos. pic.twitter.com/kxKDgzSw2G

— Claudio Savoia (@claudiosavoia) November 26, 2020
With the announcement of an alleged extension of the funeral, people began to calm down a bit. However, everything seems to indicate that it was a deception. Maradona's family had already decided that the burial in the cemetery of Bella Vista, province of Buenos Aires, had to be today and in daylight. From one moment to the next, the coffin was removed from sight, and the procession left for its final destination, guarded by a large police operation.
The calm around the lifeless body of the former player arrived only at the moment of entering the cemetery, arriving at seven in the evening. Unfortunately, the last day was an embarrassment, something that Maradona, with all his faults, did not deserve. From the photos that transcended of the employees of the funeral home with his body to the shots of the Casa Rosada.
Everything that happened today was crazy. Once again, Argentina was embarrassed before the world.