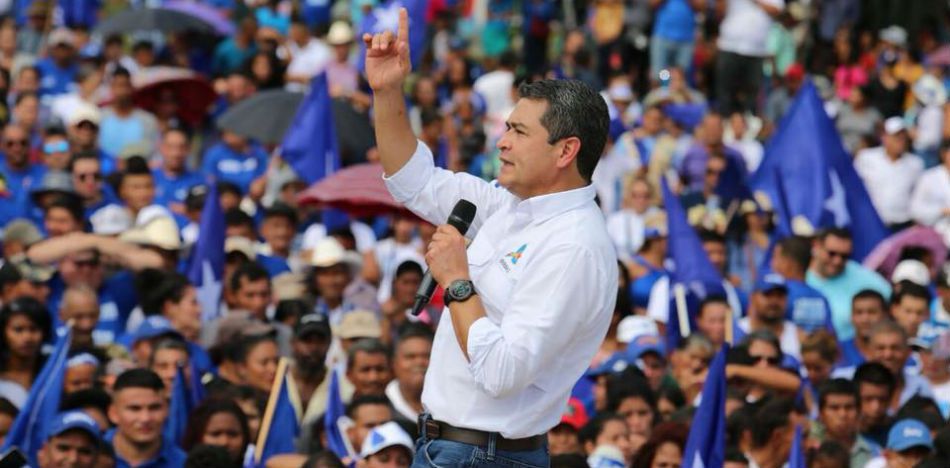 EspañolIn Honduras, President Juan Orlando Hernández has won reelection, defeating leftist candidate Salvador Nasralla 1,411,045 votes to 1,358,712.
The results come after nearly a week of controversy involving voting booth malfunctions and ballot inconsistencies that forced officials to count the votes by hand. The procedure, called "special scrutiny" in Honduras, came at the request of the Alliance Opposition party, and ultimately delayed the results by three days.
Outside observers from the Organization of American States and the European Union were called at the request of the Alliance Opposition party. President of the National Electoral Council David Matamoros Batson said representatives from the private sector, religious institutions, the trade association and civilians representing society at large could also observe the process. Representatives from the United Nation and the United States Embassy also observed the process.
"Nos parecen positivos los llamados de estos sectores de la sociedad a que los partidos políticos actúen de forma responsable y que también ellos vigilen su elección y a su TSE. Es una forma de comenzar a ciudadanizar todo el proceso", Álvaro Colom, representante de @OEA_oficial pic.twitter.com/PaSKiD9vTl

— TSE Honduras (@tsehonduras) December 3, 2017
At approximately 5:00 p.m. local time on Sunday December 3, the special scrutiny began, with the people of Honduras gave a collective sigh of relief through the hashtag #ConteoYa (#VotingInProgress) that the count would finally put an end to the uncertainty surrounding the presidency.
The recount came to an end at 5:15 a.m. local time on Monday December 4, giving the victory to President Hernández, who in turn has become the first person to ever be reelected in the history of Honduras.
"Los partidos deben darse cuenta que no están ellos por encima de nadie al final lo que cuenta es nuestra patria", David Matamoros Bastson, magistrado presidente del #TSE pic.twitter.com/jWVDtfo2p8

— TSE Honduras (@tsehonduras) December 4, 2017
Tweet: "These parties must learn that they are not above anyone else, and what counts in the end is our country", David Matamoros Bastson, justice and president of the #TSE
Batson spoke at a press conference afterward, saying they would not give a final verdict until all counting was also completed for mayoral and gubernatorial elections. He also celebrated the nationwide effort to ensure transparency throughout the electoral process.
The country remains under curfew from 6 a.m. to 6 p.m. — intended to prevent violence and rioting, as well as damage to private property.
Former President Manuel Zelaya Rosales, the Coordinator General of the Opposition Alliance party, along with its candidate Salvador Nasralla, said over the weekend that they would not acknowledge the results, and urged their supporters to continue protesting.
El pueblo debe mantenerse firme en defensa de la victoria que obtuvimos en las urnas. NO se ha logrado ningún arreglo con el Tribunal de elecciones. pic.twitter.com/rIndarw0uR

— Manuel Zelaya R. (@manuelzr) December 3, 2017
Secretary General of the governing Partido Nacional party Reinaldo Sánchez tweeted the results early this morning, celebrating a victory for his party's candidate, as well as the will of the people.
Juan Orlando, es el próximo Presidente de Honduras, gracias a Dios y a la voluntad popular del Pueblo expresado en las urnas. #VictoriaTotalJOH #HondurasGana #PazYDemocracia @JuanOrlandoH pic.twitter.com/H8ys3gwlWv

— Reinaldo Sánchez (@ReinaldoHN) December 4, 2017
Hernandez' second term could be difficult, as he faces a strong opposition. He will need to focus on fulfilling campaign promises aimed at continuing a fight against crime through national penal system reform, and strengthening the national armed forces. He has also promised to implement Special Economic Zones in some parts of the country.