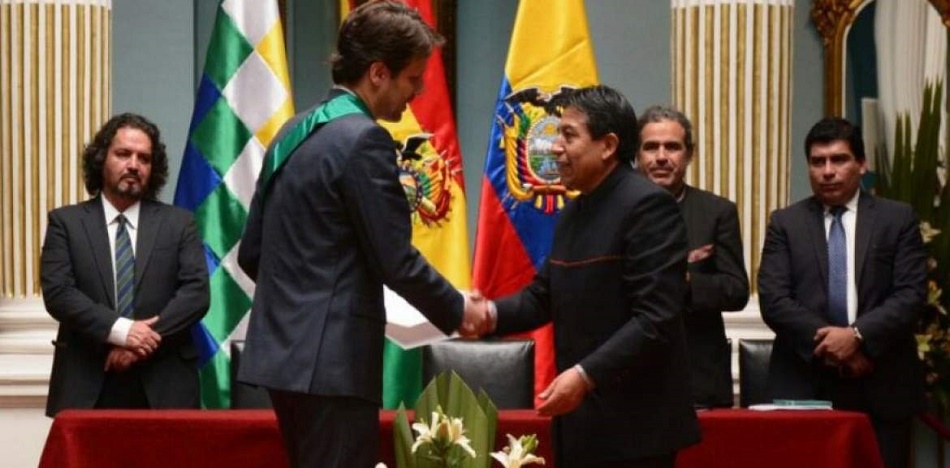 EspañolBolivia and Ecuador have signed an agreement to export legal coca products through the Ecuadorian market.
The agreement was signed in La Paz by the countries' respective foreign ministers, David Choquehuanca of Bolivia and Guillaume Long of Ecuador.
Minister Choquehuanca gave a speech in which he said Ecuador will be the first country to export legal products derived from the coca leaf.
Bolivian officials said there are already several companies in both nations that have had made "great advances" thanks to this type of initiative and what was missing was a means by which Bolivia could start to export.
The Ecuadorian minister celebrated that fact that his country was the first with which Bolivia initiated such a treaty of "greater added value, economy of knowledge and of productive diversification."
Bolivia seeks to promote the industrialization of coca with the objective of exporting soft drinks, infusions, cosmetics and food products, all derived from the coca leaf.
However, the international trade in coca is banned by UN anti-drug conventions, as it contains alkaloids that are used for the manufacturing of narcotic drugs.
Bolivia's coca leaf is reportedly used for medicinal, ritual and cultural purposes that are recognized in the nation's constitution. However, it's no secret that part of the production of this plant is used for the manufacturing of cocaine.
The meeting also served to decorate the Chancellor of Ecuador for his "willingness to strengthen ties, cooperation and friendship" through the Condor de los Andes, which is the highest distinction awarded by Bolivia.
Long expressed his gratitude, calling for this act to be one of the initiatives that seals the bonds of brotherhood between the two nations.
In the coming days, the Ecuadorian Minister is expected to give a speech on an "Ethical Pact" against tax havens, which President Correa's administration has been pushing of late.
Source: The Republic