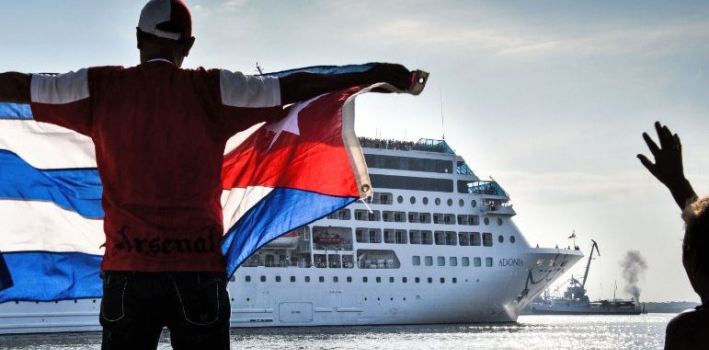 EspañolThe first American cruise ship pulled into the harbor in Havana on Monday, May 2 with hundreds of Cubans swarming to greet it.
The Adonia, from Carnival Cruises' Fathom line, was carrying 704 passengers, including at least a dozen Cuban-Americans who were the first to legally enter the island by sea for the first time in 50 years.
This made for a historic journey, as Raúl Castro's regime had to compromise with the United States and reverse a long-standing policy: allowing Cuban exiles — regardless of their immigration status — to enter the island by sea.
The company says that a cruise ship can leave from Miami for Cuba every two weeks, and those aboard can participate in cultural, educational and humanitarian activities in Havana, Cienfuegos and Santiago.
According to media reports, ticket prices for the maiden voyage went from US$2,662 to $8,767 per person.
https://twitter.com/sumitoestevez/status/727138448369410050
Currently, the Cuban government considers cruise ships an easy source of income with the potential to attract thousands of tourists without saturating hotels or creating food shortages.
Carnival Cruises, which initially had decided not to allow Cuban citizens on the trip, announced on April 18 that it would not discriminate against Cuban-American passengers. On April 22, Cuban officials reported they had decided to allow Cuban citizens to enter by sea regardless of their immigration status.
For decades, Cuban Americans had been banned from entering Cuba by sea due to government policy. However, the current Cuban immigration law that has been in place since 2012 does not actually make this regulation explicit.