EspañolThe Chilean Chamber of Deputies has passed a resolution demanding President Michelle Bachelet remove the Chilean ambassador to Venezuela as a gesture of solidarity with political prisoners in Venezuela.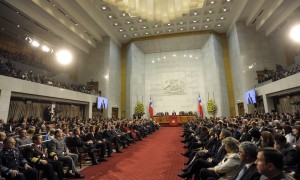 Approved on Wednesday with 66 votes in favor, 26 against, and 10 abstentions, the lower house's resolution seeks to remove Ambassador Pedro Rámirez "until the situation of Caracas Mayor Antonio Ledezma, opposition leader Leopoldo López, and in general every individual imprisoned for political reasons, is solved."
Opposition Congressman José Antonio Kast, from the Independent Democratic Union (UDI), urged the president to listen to Congress and remove Ramírez "as a means of rejecting the systematic violation of personal freedoms, human rights, and the democratic development of the country."
"We see that Venezuela is experiencing a serious institutional crisis, where expressing an opinion against the regime of Nicolás Maduro has meant prison for hundreds of people, as in the case of Venezuelan opposition leader Leopoldo López, unjustly imprisoned for already a year and 88 days, without even having a transparent and fair trial," Kast said.
The proposal introduced on March 10 was a joint effort of representatives from both the ruling and opposition coalitions. The vote comes a month after the wives of López and Ledezma visited Chile to raise awareness of the human-rights situation in Venezuela. Bachelet, however, refused to meet with the Venezuelan women.
In April, the Chilean Senate passed a bill to condemn the violation of human rights in Venezuela and demanded, among other things, the release of political prisoners.