EspañolThe Brazilian Senate passed a vote of no-confidence on Tuesday against Venezuelan President Nicolás Maduro over the "arbitrary detention" of members of the opposition.
The text, written by Senator Roberto Jucá of the Brazilian Democratic Movement Party (PMDB), "rejects" the arrests of the mayor of Caracas, Antonio Ledezma — imprisoned since February— and opposition leader Leopoldo López, who has been in jail for 14 months, as well as the detention of other dissidents.
The body approved the text on the eve of a visit by López's and Ledezma's wives, Mitzy Capriles and Lilian Tintori respectively, to the Brazilian Congress to present allegations of human-rights violations in Venezuela.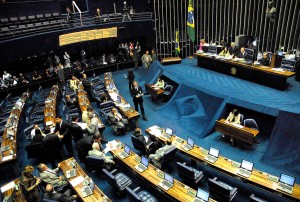 The motion approved by the parliament represents a "defense of democracy in Latin America", especially within the Mercosur trade bloc, composed of Argentina, Brazil, Uruguay, Paraguay, and Venezuela, Jucá said.
"The opposition in Mercosur countries must have all the protection and guarantees from the organization to fully exercise their political activities," stated the PMDB senator, arguing that in Venezuela "those liberties are not respected."
The bill, which was passed despite the opposition of the ruling Workers' Party (PT) and other progressive groupings, calls on Venezuela to respect the Democratic Clause of the Mercosur Charter, which stipulates that a member-state can be suspended from the trade bloc if it systematically violates human rights.
The PT's Senator Lindbergh Farías said it was a "hasty" decision and asked President Dilma Rousseff, who currently holds the six-month rotating presidency of the body, to keep working to promote "dialogue" in Venezuela.
"The Brazilian government is working for an understanding, a negotiated, legal exit" to the country's political divisions, Farías noted, referring to a joint effort between Brazil, Ecuador, and Colombia via the Union of South-American Nations (Unasur) to improve the situation in Venezuela.
He added that "the only side" that Brazil can choose in relation to Venezuela is the side of "dialogue" and "balance", and criticized the "putschist" attitude displayed by sectors of the Venezuelan opposition.
Source: La Patilla.