EspañolUS companies will be able to offer passenger ferry transportation services to Cuba, as Washington issued licenses for the first time in 50 years, the US Department of Treasury reported on Tuesday, May 5.
At least two Florida-based ferry companies confirmed that the government has granted them licenses to operate a service to Cuba. However, Havana will first have to also give permission.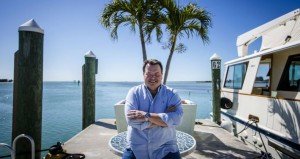 "I can confirm that OFAC has issued certain specific licenses for passenger ferry service, but we cannot provide additional details as to whom or how many," said Hagar Chemali, a spokeswoman for the Treasury's Office of Foreign Assets Control.
Chemali explained that Cuban regulations have not changed, and that no general license had been issued by Washington authorizing passenger ferry services to Cuba.
"Specific licenses may be issued on a case-by-case basis," she added.
Fort Lauderdale-based Havana Ferry Partners and Airline Brokers Co., Baja Ferries USA (a subsidiary of United Americas), and United Caribbean Lines Florida of Greater Orlando all received licenses.
"I'm very excited, because this is a historical event in US-Cuba relations," Havana Ferry's managing partner Leonard Moecklin Sr. told press.
Tourism between the United States and the island is still officially prohibited, and the US government requires travelers to register under one of the 12 approved categories, such as family visits, government work, and journalism. However, most visitors no longer have to request a license from the government and wait for clearance.
The moves joins recent announcements that US airlines are to operate direct flights to Cuba, amid the normalization of diplomatic relations between the two countries.
Passenger ferry companies already offer Cuban services to and from Mexico, Puerto Rico, and the Dominican Republic.
Sources: El Universal, Entorno Inteligente, Confirmado.