EspañolFormer Cuban President Fidel Castro made a rare public appearance for the first time in over 14 months, greeting a group of visiting Venezuelans at a school in Havana, Cuban state media reported on Friday, April 3.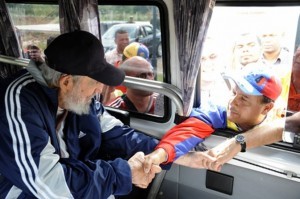 The Cuban daily Juventud Rebelde released four pictures of Castro shaking hands with Venezuelans through the window of his vehicle, wearing his now traditional tracksuit and baseball cap.
Castro met with 33 of the 155 Venezuelans who arrived in Cuba on March 27 as part of the "Second Solidarity Flight Bolivar-Martí: A Bridge between Peoples."
According to the Cuban daily, the meeting lasted an hour and a half, and Castro spoke with the group about current events in Venezuela.
"We have to work fast and collect lots of signatures for [US President Barack] Obama, so he will remove Venezuela as a security threat as for the North American nations," Castro reportedly told the group, in reference to Venezuelan President Nicolás Maduro's signature-collection campaign launched last month.
Castro, 88, was last seen in public in January 2014, when he attended a cultural event in Havana. This marks Fidel's first appearance in public since his brother and current Cuban president, Raúl Castro, announced a normalization of diplomatic relations with the United States.
Fidel, however, has occasionally published articles in state-run newspaper Granma. In his last letter, published in January, Castro said he "supports any alternative to peacefully solve conflicts," while at the same time voicing his distrust of Washington politics.
Fidel ruled Cuba from 1959 to 2006, when he stepped down due to illness and handed control of the Cuban government to his 83-year-old brother Raúl.
Sources: New York Times, El Economista.