EspañolNearly 800 Guatemalans filed a billion-dollar lawsuit last week alleging Johns Hopkins University and the Rockefeller Foundation deliberately infected hundreds with sexually transmitted diseases (STDs), during a medical experiment from 1945 to 1956.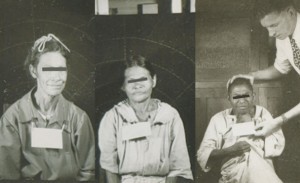 The lawsuit claims the institutions helped "design, support, encourage, and finance" medical experiments on orphans, inmates, psychiatric patients, and prostitutes, infecting them with STDs, including syphilis and gonorrhoea. The study's stated goal was to test the effectiveness of penicillin to prevent diseases.
The lawsuit further alleges that Guatemalan test subjects were not told they'd been infected, causing some to die and others to transmit the disease to their spouses, partners, and children.
The experiments were kept secret until college professor Susan Reverby discovered them in 2010.
The Rockefeller Foundation and the Johns Hopkins University have denied any involvement in the experiments and condemned them.
"The plaintiffs' essential claim in this case is that prominent Johns Hopkins faculty members' participation on a government committee that reviewed funding applications was tantamount to conducting the research itself and that therefore Johns Hopkins should be held liable," said the university in a press release. "Neither assertion is true."
The Rockefeller Foundation reportedly funded the research and employed scientists to monitor the experiments, according to the lawsuit. The claim also alleges that Johns Hopkins School of Medicine held "substantial influence" over the commissioning of the research program by dominating panels that approved federal funding for the research.
The foundation responded by claiming the lawsuit "seeks improperly to assign 'guilt by association' in the absence of compensation from the United States federal government."
The suit also lists Bristol-Myers Squibb pharmaceutical group and the company's owner, Mead Johnson, as defendants for supplying drugs for the experiments.
This is the second attempt from victims and their families to obtain compensation after a US judge dismissed a class-action lawsuit against the US government in 2012.
According to the US Public Health Service Sexually Transmitted Disease Inoculation Study of 1946-1948, more than 1,600 people in Guatemala were infected: 696 with syphilis, 772 with gonorrhea and 142 with chancres.