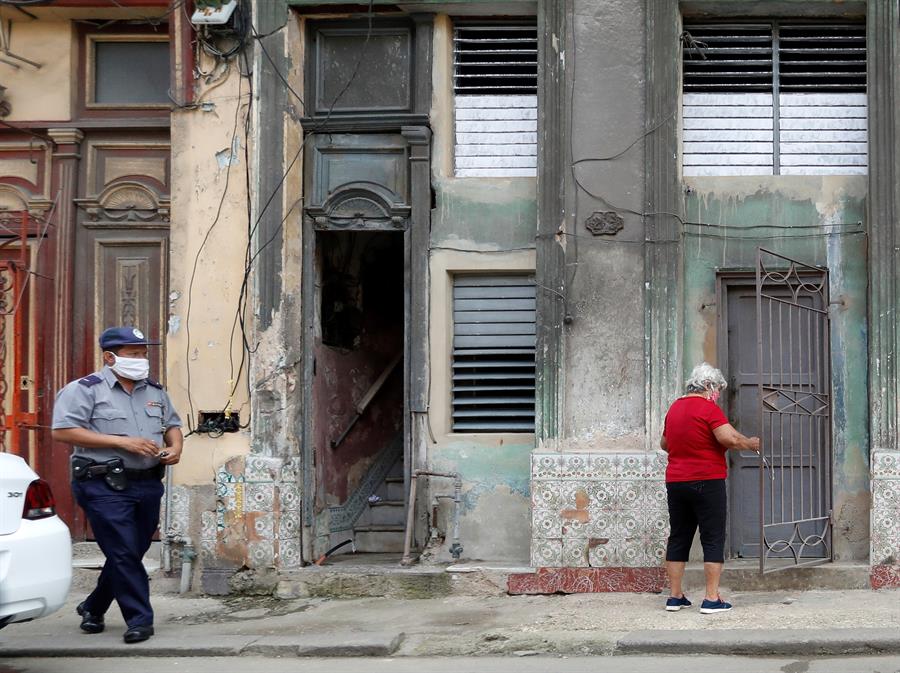 Spanish – The Cuban regime is intensifying persecution. The COVID-19 pandemic is the excuse. "Spread of epidemics" is a crime enforced to control the opposition in Cuba.
According to Human Rights Watch, out of 20 people arrested, 14 were threatened with prosecution for "spreading epidemics." Eight persons who were not detained received apparently arbitrary fines, based on COVID-19 standards, and two others were threatened with the possibility of criminal prosecution.
The crime of spreading epidemics is punishable by fines and up to nine months in prison. According to the Criminal Code, the crime involves "violating the measures or provisions issued by the competent health authorities for the prevention and control of communicable diseases, as well as the programs or campaigns for the control or eradication of serious or dangerous epidemics.
Repression and arrests
The communist regime has instrumentalized the pandemic to repress protestors.
Opponents are accused of violating the rules to prevent the coronavirus. An artist was even arrested for refusing to take the COVID-19 test again.
So Cuban security forces arrested 14 artists and dissidents on November 26, 2020, most of them belonging to the San Isidro Movement. And the repression continues.
The artists were demonstrating in front of the Cuban Ministry of Culture. The official press announced that they were evicted as a security measure to prevent the spread of COVID-19.
Hoy viví un momento historico en Cuba. Más de 100 artistas, activistas y periodistas nos citamos frente al Ministerio de Cultura para exigir el a la represión en Cuba, solidaridad con @Mov_sanisidro y la libertad de Luis Manuel Otero y Anamelys Ramos. Algo cambió en Cuba hoy!! pic.twitter.com/ZQbZ0IqpMy

— Abraham Jiménez Enoa (@JimenezEnoa) November 28, 2020
They were charged with the crime of "spreading epidemics" and fined for alleged violations of COVID-19 restrictions, Human Rights Watch reports.
According to HRW, under the pretext of enforcing COVID-19 regulations, the authorities have made arbitrary arrests, opened abusive criminal proceedings, and detained people in unsanitary cells that encourage the spread of the coronavirus.
"Cuban authorities are using COVID-19 rules to expand their repressive tool kit against critics," said José Miguel Vivanco, Americas director at Human Rights Watch. "This is part of a broader pattern in which Cuban authorities use any excuse to systematically repress dissent."
El régimen cubano se aprovecha de las reglas contra el Covid-19 para intimidar, multar, detener y perseguir a disidentes.

El arresto de miembros del Movimiento San Isidro es apenas el último ejemplo.

Documentamos abusos contra 34 víctimas

Nuevo informe: https://t.co/WwM0RumG6o pic.twitter.com/TOdTZusOGd

— José Miguel Vivanco (@JMVivancoHRW) December 7, 2020
Regime violating human rights
According to the official press, the activists' protest was orchestrated by the United States.
Although Cuba is a signatory to the Human Rights Charter, it has not ratified multiple agreements. As a result, in 1962, it was expelled from the Organization of American States, after having commanded executions, arbitrary detentions, and torture.
On the eve of the commemoration of the International Day of Human Rights (December 10), it is worth remembering that the Cuban communist regime violates the 30 articles of the Charter of Human Rights.
And whoever dares to question the regime is deprived of their liberty.
Thanks to the coronavirus pandemic, they now have legal grounds to detain civilians with fabricated crimes.