EspañolThe Venezuelan opposition says it has evidence their government funded the Spanish socialist party Podemos to the tune of €14 million, and is scheduled to present their case to Spain's Congress in three weeks.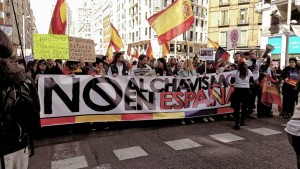 Julio Montoya, a congressman and spokesman for the First Justice (FJ) party, told Spanish daily La Razón that he is seeking to create a binational commission to prove Podemos violated funding regulations in both countries.
"We do not plan on making this an election issue. This is an institutional matter, and we are not interested in the relationships between parties," said Montoya. "We don't want to interfere in Spanish politics. Our idea is to hold a meeting with the Popular Party (PP), the Partido Socialista Obrero (PSOE), and United Left."
On February 25, FJ filed a formal complaint alleging the Venezuelan government funded Podemos through consulting contracts commissioned by Spain's Foundation of Political and Social Studies (CEPS), and paid for by Venezuela's state-owned telecommunication company (Cantv), Ministry of Food, and Institute of Social Security. Podemos leaders make up part of the CEPS board of directors.
Montoya said his party has documentary evidence of transactions, and will reveal the identities of businessmen associated with the government who requested US dollars at a preferential rate and then transfered them to the foundation behind Podemos.
Montoya told EFE that Podemos has billed the Venezuelan government €14 millon since 2006. "We believe that this consulting work is not financially or administratively backed by those institution. It seems that is only a strategy to funnel funds to Podemos," he said.
First Justice is the second political party in Venezuela to denounce these dealings. On February 20, the Social Christian Party (COPEI) delivered a letter to the Spanish embassy in Caracas expressing their intent to file a complaint over the Venezuelan government's alleged funding of Podemos.
On Monday, March 2, Spanish Foreign Affairs Minister José Manuel García-Margallo demanded transparency from the European party.
"One of the cardinal principles of these movements [Podemos] is their appeal for transparency.… If transparency is always important, then it is especially important when there is funding from foreign countries that can in any way determine national policy," said García-Margallo.
Protests in Madrid
Both Spaniards and Venezuelans gathered on Sunday in front of the Circle of Fine Arts in Madrid to protest an exhibition that claimed to demonstrate the Venezuelan government's achievements. Activists from the newly formed Spanish-Venezuelan AntiPodemos Movement denounced the ongoing repression and human-rights violations in the South American country, and called for the defense of democracy in Spain.
Sources: El Periodiquito, La Razón, Huffington Post, El Nacional.