EspañolHilario Ramírez Villanueva, the eccentric mayor of San Blas city in the Mexican state of Nayarit (northwest), celebrated his 44th birthday on Saturday, February 28, and with a notorious party. At a cost of MEX$15 million (US$1 million) and with over 25,000 partygoers, he let his hair down with a young lady attendee and confessed to stealing from his constituents.
The mayor said that his friends and followers donated the 50,000 servings of beer, 50 cattle for the preparation of the birria — a traditional Mexican dish prepared with various sauces and peppers — and coordinated a live performance of the band El Recodo.
Ramírez Villanueva, who won reelection in his town on July 7, 2014, with 40.32 percent of the votes, opened the party up to the general public.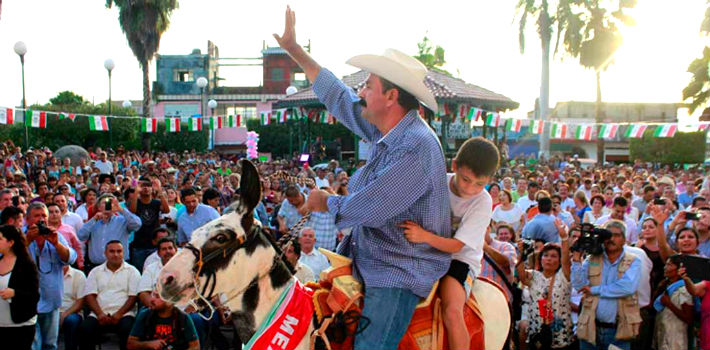 "I want all the people to come, without discrimination: millionaires, rich, and the broke like me. On February 28 I'll wait for you in [the town of] Huaristemba. At 1:00 in the afternoon. Everyone is invited," he said to local media.
"All my friends are invited, as well as my enemies, statewide, from the entire republic. El Recodo band is coming, so you can enjoy a nice party, because you know that your friend, the 'Layín,' is a good host. A drink, some noise, and a taco," he promised.
In the middle of the celebrations for his birthday, the official said that "almost everything" was a gift from his friends: "I spent nothing from the presidency [municipal government], because it is known that the municipalities are broke."
By way of comparison, the one-day fiesta cost the same amount as the entire annual municipal budget for security (MEX $15.9 million).
In terms of organization, there were chairs for 10,000 guests and both municipal and Narayit state police, along with the nation's Civil Protection officers in support.
"Layín has many friends and many [earnings from] royalties; the presidency [the municipality] paid nothing," he said, speaking of himself in third person. "That is a citizen's affair, while this celebration is to my taste."
"Tomorrow, chingaderas [lies] will come out in social networks, but do not pay any attention. I am a farmer. For every two dollars I earn, one is for the people and one is for me. And sometimes, those two are for people, because I like to help; I was born to help," he said.
During the celebration in Huaristemba, his hometown, the controversial official danced with a young woman on stage and provoked a scandal: following the rhythm of the music, he lifted her dress twice, revealing the woman's underwear to raucous applause.
The young woman — whose identity is unknown — continued dancing with the married mayor, although she was quick to get control of her dress.
On the matter, Nayarit General Secretary José Trinidad Espinoza Vargas condemned Layín Ramírez's attitude. He warned that "respect is a fundamental value that should govern our social behavior. Politics should not get dirty with actions that denigrate, infringe, or offend."
He also stated via Facebook that woman is a synonym of loyalty and honor: "Whoever violates the them, infringes everyone. It hurts us all. Say no to this kind of action."
"I Stole Just a Little"
Ramírez Villanueva admitted, over the loudspeakers and in front of the crowd that was listening, that he stole during his campaign for reelection, but that it was only "a little." He added that while he stole with one hand, with the other he gave the money to his "poor compañeros."
"I like money, just as you do, and like everyone does, but I love working. Did I steal from the presidency [municipality]? Yes I stole, yes I stole a little, because it is really poor," said the mayor who is also known as Layín since June 2014.
The first administration of the mayor (who first took office in 2008) has faced scrutiny, according to Mexican El Universal, regarding the disappearance of US$1.5 million.
Notoriety has not stopped there for the mayor of the traditional National Action Party (PAN). In 2008, he rode into an official engagement on a $250,000 black thoroughbred horse, throwing money to the audience.
Translated by Rebeca Morla. Edited by Fergus Hodgson.