EspañolA linguistics analyst widely cited as reporting that Venezuelan opposition leader Leopoldo López incited violence during anti-government protests in 2014 has made an apparent about turn. Regarding the key evidence to justify López's ongoing incarceration, she states that López "incited peaceful demonstration within the limits of the Constitution."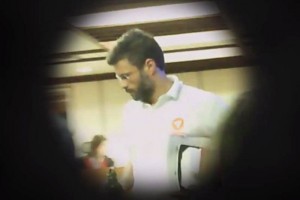 Rosa Amelia Asuaje surprised the audience present in court on Wednesday, February 25, as she openly contradicted her report filed on April 3, 2014: "the citizen Leopoldo López didn't utter a message of anger, but simply conveyed his personal opinions to the crowd."
The expert, who has analyzed five of 32 speeches given by López, denied including in her initial report the idea of a "subliminal message," saying that this was an interpretation of the prosecution alone.
According to Venezuelan daily El Nacional, the linguist said that she had always taken pains to use the conditional form, and had made no concrete statements in support of the prosecution's thesis. López's words, she argued, consisted of a "meta-message loaded with anger, which could have influenced his followers to behavior that could have lead to violent episodes."
López's defense cross-examined Asuaje's testimony, emphasizing that his followers exercised their own free will. Asuaje denied that there was any evidence in López's speeches to suggest that he intended to burn down the public prosecutor's office, as charged. Nor could she confirm that four students also facing trial had listened to his speeches or were followers of López.
Juan Carlos Gutiérrez, López's lawyer, said that Asuaje's statements completely discredited the accusations against López, who has now spent over a year in the Ramo Verde military prison in Caracas.
In the course of a 20-hour testimony spanning three separate sessions on Monday, Tuesday, and Wednesday, Asuaje also shifted the blame for the violent protests that rocked Venezuela for three months from mid-February, decisively onto the government and away from López. She signaled that the killing of Bassil Dacosta on February 12 could have sparked the destruction and aggression that followed.
Source: El Nacional.