EspañolOn Friday, February 27, a Peruvian prosecutor called for a 25-year jail sentence for former Interior Minister Daniel Urresti, accused of being the intellectual author behind the murder of a journalist 26 years ago.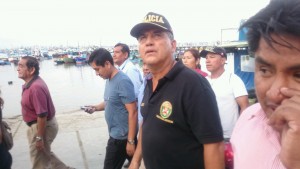 Urresti is accused of being behind the murder of Hugo Bustios, who as a correspondent for Caretas magazine was covering the conflict between government forces and guerrilla in the Ayacucho region. Urresti served as regional intelligence chief at the moment of the crime.
"The Public Ministry has ruled that there exist sufficient elements in the case, as a result we believe that he ought to receive the punishment according to the law," prosecutor Luis Landa said in an interview with local daily Correo.
The prosecutor clarified that the jail term being sought for the former minister is the same previously applied in other cases involving military chiefs.
If found guilty, Urresti will also have to compensate the journalist's family with reparations of PER$500,000 (US$161,000).
Urresti, who held the post of interior minister up until February 17, formally registered as a member of the governing Nationalist Party on Thursday, February 26 — a necessary step for a possible bid for the presidency of the South American nation in 2016.
Through his Twitter account, Urresti insisted that he is innocent, denied having been informed of the charges, and pointed to several human-rights NGOs as being behind the accusation.
Escucho y leo a gente que me juzga y condena en base a una notificación que no he recibido. Que abuso! Increíble!

— Daniel Urresti (@DanielUrresti1) February 27, 2015

"I see and hear people judging be on the basis of a notification that I haven't even received. Such an abuse! Incredible."
Según ONGs DDHH ya que ellos no pueden probar mi culpabilidad, yo debo probar mi inocencia, increíble! Pero no duden que lo haré!

— Daniel Urresti (@DanielUrresti1) February 28, 2015

"According to human-rights NGOs, since they can't prove my culpability, I have to prove my innocence, incredible! But they shouldn't doubt that I'll do it!"
President Ollanta Humala also criticized the prosecutor's ruling, and linked the issuing of charges with Urresti's recent affiliation with his party: "I call people's attention to how the Attorney General's Office, one day after former minister Urresti registered with the party, released its request for him to proceed to a judicial hearing."
On the other hand, Bustios's widow, Maragarita Patiño, welcomed the accusation: "This news has almost left me trembling. I salute the prosecutor's determination. This ruling strengthens us a lot. I feel at peace."
Two soldiers, Victor Fernando La Vera and Amado Vidal, were previously sentenced for Bustios's killing in 2007. But two years later, La Vera, Urresti's former superior officer, accused him of having participated in the murder.
Sources: Correo, El Comercio.