In a blow to President Dilma Rousseff's Workers' Party (PT), Brazil's chamber of deputies backed a rival candidate for the presidency of the lower house on Sunday, February 1. Eduardo Cunha, leader of the Brazilian Democratic Movement Party (PMDB), received 267 votes, while Arlindo Chinaglia of the Workers' Party received 136.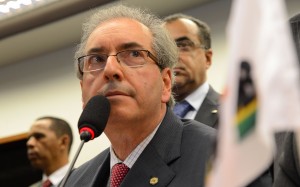 Although the PMDB is the government's main ally in Congress, Cunha's candidacy was rejected by Rousseff's administration due to his promotion of greater independence for the chamber from the executive branch. The government had dispatched ministers to the lower house to try and drum up support for Chinaglia.
After the vote, Cunha said that he would not retaliate despite the "clear attempt of interference by the government." However, he stressed that he would seek to secure greater congressional freedom from Rousseff's government. "We will not work as the opposition, but we will not be submissive," said the deputy.
The new president of the deputies has previously clashed with Rousseff, notably over his opposition to government plans to regulate the media, and his support for greater regulation over state oil firm Petrobras, currently embroiled in an corruption scandal.
"It was a very close campaign, but people clearly state that they want independence in parliament. This is where debates should and will happen," said Cunha.
Cunha's appointment follows the re-election of the PMDB's Renan Calheiros to the chairmanship of the senate prior to 2014's parliamentary elections, despite facing a last-minute challenger from within his own party.
Calheiros, a close ally of the Rousseff administration, formerly stepped down in 2007 amid corruption allegations. Once re-elected in October, he promised that "decisions will be taken in a collective way" after "seeking the maximum consensus."
Cunha and Calheiros were due to meet on Monday to "refine a common agenda" to boost the legislative process and thus contribute to "improving the business environment" in the country.