EspañolAmado Boudou will become the first Argentinean vice president to be put on trial. On Thursday, federal judge Claudio Bonadio presented the case against Boudou, alleging the vice president falsified documents related to his purchase of an imported car more than 20 years ago.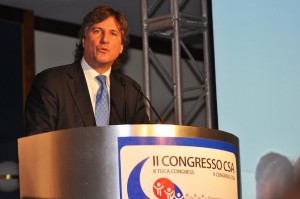 The trial could begin sometime in 2015, although a human-rights violations case filed in the same court may cause it to be postponed.
Boudou is accused of various irregularities regarding the legal procedures required to transfer a car. Prosecutors note the presence of forged signatures, from both the vice president and the notary who supervised the purchase, a non-existent home address, and a forged engine serial number.
According to District Attorney Guillermo Marijuán, Boudou, along with his ex-wife and other people that were involved in the proceeding, "worked together to transfer false documentation in an irregular fashion." This crime is punishable by up to 6 years in jail and disqualification from public office for double the amount of time served in prison.
The decision was announced a day after the appeals court discarded a request submitted by Boudou's defense to cancel the judicial proceeding. The judges believed that the request to bring the case against the Argentinean vice president to trial was "clear, precise, and detailed."
Beyond these specific charges, Boudou has for months been under investigation for a series of alleged corruption charges during his tenure in public office.
Cristina Kirchner's vice president was indicted in June for another irregular purchase in 2010: the company responsible for printing the country's currency. Boudou, then the Economy Minister, is said to have used his influence within the Kirchner administration to lift the company out of bankruptcy. Then, through a series of complex maneuvers, acquired the company.
He faces charges of bribery and conduct unbecoming of a public official. The list of accusations, however, does not stop there.
The vice president is also being investigated for receiving gifts in the form of free flights in private jets, illicit profits gained from irregular asset declarations, and the purchase of 19 high-end vehicles during his tenure as Economy minister.
Source: La Nación.