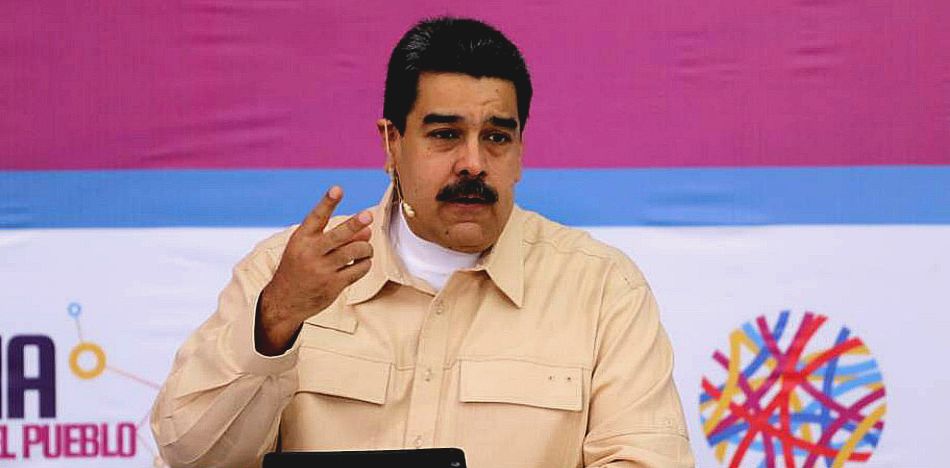 EspañolBitcoin, the world's most popular cryptocurrency, is virtually illegal in Venezuela, where the police track down and arrest its users.
However, that hasn't prevented Venezuelans from increasingly turning to this and other digital currencies to escape the hyperinflation that is turning the government-issued bolívar notes into worthless pieces of paper.
But now the Venezuelan socialist regime itself is betting on a cryptocurrency of its own to solve the country's economic woes: the Petro.
Dictator Nicolás Maduro made the announcement on Sunday, December 3, during his hours-long show on national television.
"I have thoroughly studied this issue, and I want to announce that Venezuela is going to roll out a new cryptocurrency system based on its oil reserves. Venezuela will create a cryptocurrency —a petrocurrency, the Petro," he said.
According to Maduro, a former bus driver and union leader now overseeing a economy in disarray, the goal is to "move toward monetary sovereignty, make financial transactions" and "beat the financial blockade".
"This will allow us to reach new means of international credit for the country's economic and social development. The cryptocurrency will be backed by Venezuela's gold, oil, gas, and diamond reserves," he explained.
#EnVideo ?| Venezuela lanzará criptomoneda El Petro, a partir de las reservas petroleras, informó el Presidente Nicolás Maduro #DomingosConMaduro98 pic.twitter.com/BatQ2eEAkY

— VTV CANAL 8 (@VTVcanal8) December 3, 2017
Petro is the regime's latest strategy to combat the "economic war", an excuse that the ruling party has created for the deep crisis affecting Venezuelans.
Experts and opposition figures are skeptical this new currency will fare any better than the one already destroyed by the Maduro regime. Nowadays, 100,000 bolívares can barely buy US$1, which means Venezuelans who earn the monthly minimum wage are getting around US$4.
José Guerra, an economist and opposition legislator, wondered: "How can a cryptocurrency be backed by oil reserves if they cannot be transfered? The petrocurrency is off to a bad start."
Cómo es eso de una criptomoneda usando las reservas petroleras como garantía si éstas no se pueden enajenar? Arranca mal la pertromoneda

— Jose Guerra (@JoseAGuerra) December 3, 2017
For the head of watchdog foundation Citizen Control, Rocío San Miguel, the Petro is the new scheme "to keep plundering Venezuela."
Venezuelans also took to social media to mock the new currency.
El Petro: La criptomoneda creada por un gobierno en default, con un país en hiperinflación con control de cambio… y cuya principal industria está técnicamente quebrada.

Ese bebé nació muerto.

— Mandrake El Mago (@AsktoMandrake) December 3, 2017
"The Petro: a cryptocurrency created by a government on default, with a country in hyperinflation and exchange controls… and whose main industry is virtually bankrupt. This baby was born dead."
"Alert. Sell your bitcoins. The Chavezcoin is here," Spanish economist Juan Ramón Rallo said, referencing the late socialist leader Hugo Chávez, who handpicked Maduro as his successor.
100% confiable! De los mismos que manejan el bolívar ?

— Flórez de Andrade (@Aflorezdeandrad) December 3, 2017
"100% trustworthy! From the same managers of the bolívar."
Hard Sell
If the history of economic mismanagement is any indicator of how the new currency will fare, Maduro will find the Petro very hard to sell to investors abroad. Especially after the US government imposed sanctions that forbid its citizens and firms from making deals with Venezuelan regime entities such as PDVSA, the state-run oil firm that is now in ruins.
The reasoning behind the announcement is that the sanctions enacted by the Trump administration, Canada, the European Union, and other nations are partly to blame for the economic crisis that has left Venezuelans scavenging trash for food.
With the Petro, Maduro claims his regime can bypass the "economic war" being waged by these countries.
Cryptocurrencies are secure and reliable digital means of exchange that can be created by any individual or organization, although rarely supported by states, who already manage their own fiat money in general. They reduce transaction costs, skirt the international banking system altogether, and are thus not affected by government regulations.
These digital currencies have been on the rise since Bitcoin emerged in 2009. Despite not being backed by any government or physical good, it went on to surpass US$11,000 per bitcoin in late November, which proves the decentralized cryptocurrency's success.
Although Maduro hasn't shared many details about the Petro, it would be an entirely different kind of cryptocurrency. It would be backed by a country's mineral reserves and managed by an authoritarian state that has a record of economic mismanagement and is increasingly becoming shunned in international markets.