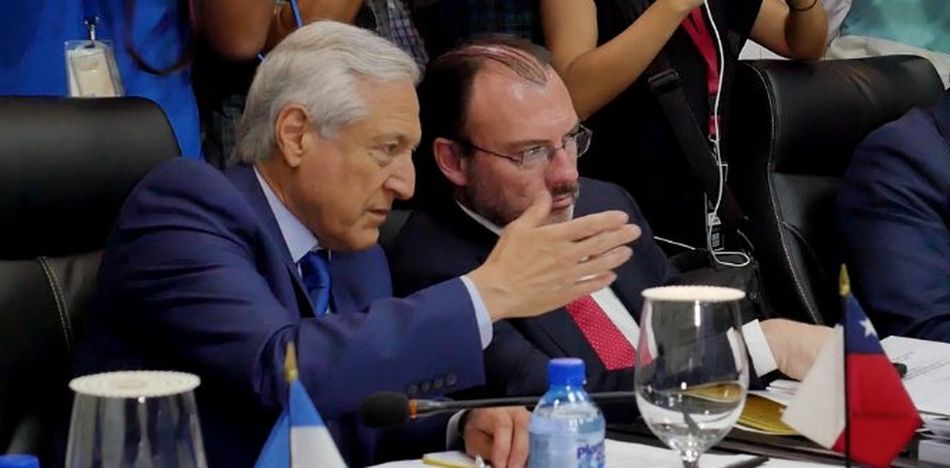 EspañolThe negotiations taking place in the Dominican Republic between Nicolás Maduro's dictatorship and the Venezuelan political opposition are making "good progress," one official has said.
Though a concrete agreement has not been reached, Chile's Minister of Foreign Affairs Heraldo Muñoz — who is closely involved in the dialogues — said that Maduro and the Venezuelan opposition have taken important steps forward in addressing the crisis facing the country.
"We have to maintain an optimistic attitude regarding the possibility of a political solution, of a negotiation that is successful in overcoming the crisis that Venezuela is experiencing," he said.
Negotiations began on Friday, December 1, with Mexico, Bolivia, Nicaragua and other international representatives — such as Spanish President José Luis Rodríguez Zapatero — present as mediators in the process. They are reportedly working on a six-point agenda that balances the regime's demand for the end of international sanctions and the opposition's desire to end the economic, health and human rights crisis occurring in the country.
Muñoz said that a draft of an agreement is being analyzed by both the Maduro regime and the Democratic Unity Roundtable, or MUD by its Spanish acronym, which represents one major faction of the political opposition in Venezuela. Final decisions about that agreement are supposed to be reached by December 15, when the dialogues officially end, but there may be a significant amount of compromise required in making that happen.
Muñoz said the negotiation must come to a compromise that is "credible and effective," with a focus on short-term results that don't repeat the failures of past negotiations.
President of the National Assembly Julio Borges, who is leading the opposition's delegation in the Dominican Republic, has made re-democratizing the country a priority. "In the coming months we want to have guaranteed presidential elections that allow us to express ourselves with absolute confidence," he said.
Critics of the negotiations don't see that happening. The Maduro regime has demonstrated over the course of several previous attempts at reconciliation — including one with a delegate sent by the Pope — that it is not willing to listen to opposition demands, let alone follow the ones they agree to.
Luis Almagro, Secretary General of the Organization of American States, has been especially critical of the process. "Politics is not a board game," he said. "It's not just about the elites moving pieces on the board," he said.