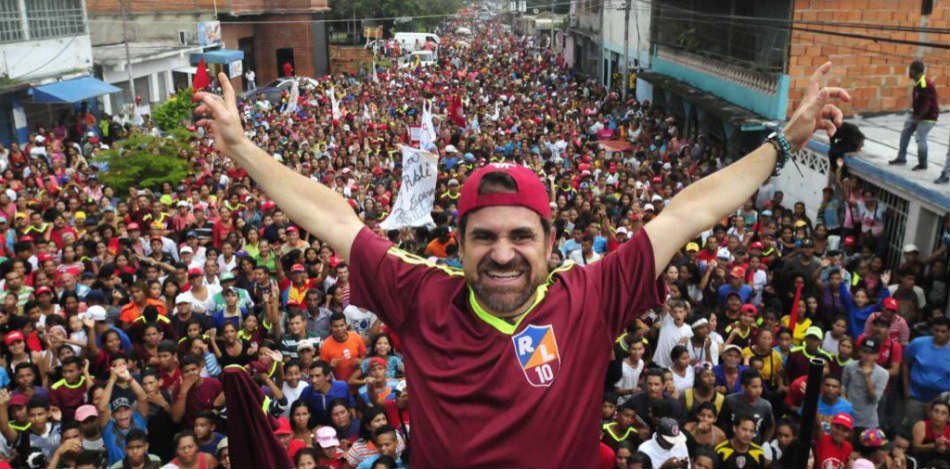 EspañolThe former Mayor of Puerto Cabello, Rafael Lacava, is the Venezuelan dictatorship's chosen candidate for Governor of Carabobo. Always a polarizing figure, his campaign has been marked with eccentric moments in which he loses his shirt and dances drunk for his supporters. His latest stunt, however, involved riding into a television interview on a donkey.
Lacava reportedly wanted to promote his candidacy for Governor of Carabobo on Globovisión, but wasn't allowed to enter the studio on a donkey.
Llegamos a @Globovisión con parte d nuestra nueva flota de transporte traida de alemania y no nos dejaron entrar porque no lo veían oportuno pic.twitter.com/k4FP2hhXt5

— Rafael Lacava (@rafaellacava10) October 9, 2017
Tweet: Arriving at Globovisión in our new transport fleet brought all the way from Germany though they didn't let us in because they didn't think it was appropriate.
Q lastima q la gente de Globovisión no me dejará entrar al canal a hacer el programa de primera página para poder mostrar mi nueva flota 4×4

— Rafael Lacava (@rafaellacava10) October 9, 2017
Tweet: What a shame that the Globovisión people didn't let me in for my interview on primera pagina to show off my new 4×4
Lacava era el único invitado de Primera Página, no lo dejaron entrar porque el animal, no podía entrar al canal por razones obvias https://t.co/2cGRU3Lel7

— Elyangelica González (@ElyangelicaNews) October 9, 2017
Lacava was the only one we invited. We couldn't let the donkey in for obvious reasons. 
La última vez q @rafaellacava10 fue a Globovisión llegó en 3 camionetas último modelo y recibió montones de críticas. Hoy quiso revertirlas https://t.co/2cGRU3Lel7

— Elyangelica González (@ElyangelicaNews) October 9, 2017
Tweet: The last time that Lacava came to Globovisión he came in 3 brand new minivans and he was criticized for it. Today he wanted to do the opposite. 
Lacava said he was ridiculed during his previous visit to the studio for arriving with a caravan of SUVs. He claimed the vehicles were owned by Globovisión, but that has yet to be confirmed. He came riding in on a donkey in an apparent attempt to respond to that previous criticism.
"Look, the other day I got a few cars in Globovisión, which supposedly belonged to the owners here," he said, "and they made it look like they were mine. And now, with my new fleet, I can't go to Globovisión."
"Since the Globovisión guards won't let me in with my new German fleet then we have to withdraw (from the interview)," he said. "Because the owners, or the owners and the people who run Globovisión … has villainized me."
According to Lacava, Globovisión is "utter trash" aligned with the Venezuelan opposition, despite that fact that they were bought by companies sympathetic to Nicolás Maduro and his regime.
https://twitter.com/Chismeven/status/917510033151229953
Tweet: These are the four vans that led Rafael Lacava to show up on a donkey. 
Lacava trató de entrar montado sobre un burro a Globovisión. Y así también pretende llegar a la gobernación, en el lomo de un burro…

— Pedro Pablo Peñaloza (@pppenaloza) October 9, 2017
Tweet: Lacava tried to appear on Globovisión on a donkey. And that is the same way that he is trying to arrive as governor, on a donkey.