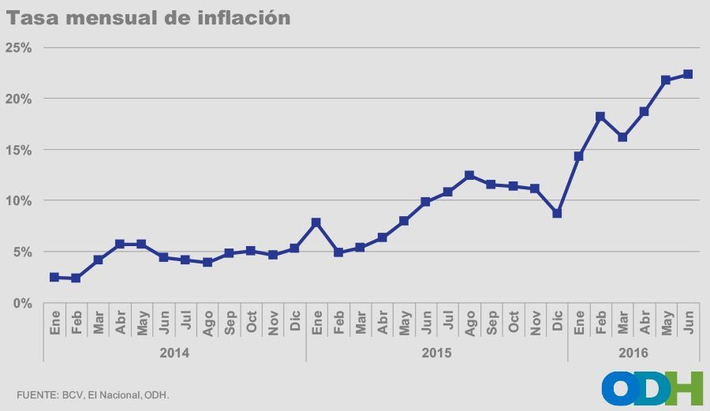 EspañolVenezuela's descent into hyperinflation seems unstoppable. Leaked statistics now suggest that the country's annualized inflation rate has already reached 1,000 percent — the highest in the world.
Economist Francisco J. Monaldi, a member of the Baker Institute and Founding Director of the Center for Energy of the Institute for Superior Management Studies (IESA), published on his Twitter account alarming data on the Venezuelan economy.
Venezuela: Leaked June monthly inflation figure 22.3%, annualized more than 1000%. Acumulated in the past 12 months, 488%.

— Francisco J. Monaldi (@fmonaldi) July 13, 2016
According to Monaldi, quoting consulting group ODH and Venezuelan newspaper El Nacional, "inflation is out of control": in June, monthly inflation rate stood at an impressive 23.3 percent.
In yearly terms, the study estimates that inflation has reached 1,000 percent. This stands in contrast with estimations of Polinomic founder, Gustavo Rojas Matute, who pointed to an annual rate of 423 percent, with 21 percent monthly inflation.
The accumulated rate over the last 12 months is 488 percent, according to Monaldi.
Plus, Looting and Shortages
Finance Ph.D. Sergio Cabrales commented on the ODH-El Nacional estimates: "annual inflation rate in Colombia is 8.6 percent (which is already high), which is Venezuela's inflation for only 10 days".
The last official data provided by the Venezuelan Central Bank (BCV) in February states that 2015 closed with an accumulated inflation rate of 180.9 percent.
However, the situation has worsened in 2016.
Consumer price indexes measured by the BCV and the National Institute for Statistics (INE) put 2016's first semester inflation rate at 176,2 percent.
Added to the widespread shortages that makes buying enough food impossible for most Venezuelans, the country is going through a major humanitarian crisis with constant looting and social unrest.
During the first semester alone, at least 954 protests took place in Venezuela according to an NGO that tracks episodes of violence.
The search for food was the main cause for street protests in 2016, a 90 percent rise compared with the first semester of 2015, when 502 protests were reported.