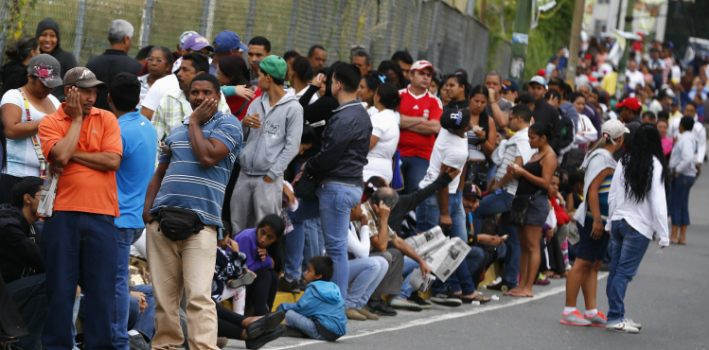 EspañolIn the early hours of Wednesday, April 6, Nerlyz Moreno gave birth while waiting in a queue in front of the SuperMercal state supermarket in El Tigre, east of Caracas.
Despite being nine months pregnant, she arrived at dawn in order to stay overnight and be able to buy food and staple products at government fixed prices.
At 5 am, while authorities began to organize the line and determine who could buy that day according to ID number, Moreno felt labor pains and abnormal breathing. Onlookers realized something was wrong.
She immediately began to complain and ask for help. People nearby assisted her with contractions, which increased until the baby was born. Within minutes of having the baby in her arms, Moreno was taken to a public health facility and then transferred to the Felipe Guevara Rios Hospital delivery room.
[adrotate group="7″]
Similar situations happen all the time in Venezuela, where the economy is swept by scarcity and rampant inflation. Some products are more easily accessible on the black market, but at much higher prices. This has forced many families with fewer resources like Moreno's to arrive at establishments a day early to get a hold on some of those cheaper regulated products.
Due to the decreasing purchasing power of the country's currency, more and more Venezuelans are forced to wait in ever-longer queues to buy staple necessities like food, diapers, and medicine.
Source: El Tiempo.