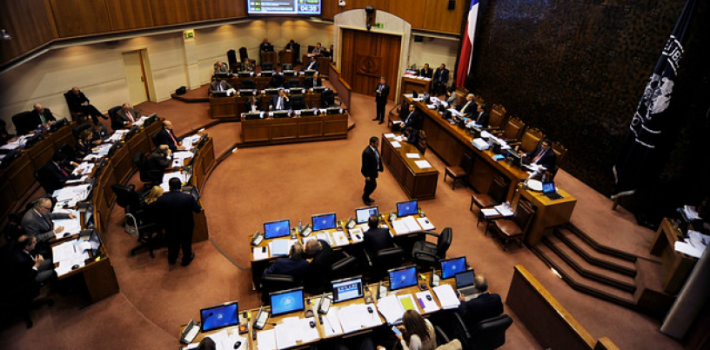 EspañolOn Tuesday April 5, in the presence of Interior Minister Jorge Burgos and Justice Minister Javiera Blanco, the Chilean Senate Constitution Commission completed the amendments to the controversial article that sanctions leaks on confidential judicial investigations.
The Senate floor unanimously approved further review of the article, and by 29 votes in favor, the amendment was modified — placing restrictions to disclosure on investigations' key backgrounds.
"Public officials who take part in a research, experts and persons accessing research under an orderly diligence by the Public Ministry, or by an order of a court, are obliged to keep it secret. The participants indicated in Article 12 will have the same obligations over any research to which they have access," said the approved text.
It added if "the persons mentioned in the preceding paragraph violate this secrecy, they shall be punished with the penalty of a fine of 20 to 200 monthly tax units or imprisonment in its minimum degree."
Among others, the Attorney General George Abbott, and the president of the Journalists Association Javiera Olivares participated in several negotiations after which a wording agreement was reached, but which also left some dissatisfied. Though some say the new text clarifies that journalists will not be sanctioned, some lawmakers privately warn that without doubt overly restricts reporting work.
During the discussion in the Chamber, Cabinet Chief Jorge Burgos said the Bachelet administration has not backed down on its intentions regarding the spirit of the bill.
According to the minister, the executive never intended to hinder the work of the press, but sought to improve the results of investigations. It is worth recalling that La Moneda has emphasized it was the Public Prosecutor's office who pushed through the disputed parts of the change.
"For the government, the formula determined by the Constitutional commission and proposed by the Committee's chairman is correct from an institutional point. It was never in the letter or spirit of those involved in the drafting of the original text to try to affect parties other than the participants, " he said in Burgos' instance.
[adrotate group="7″]
Independent Senators Antonio Horvath, Carlo Bianchi, Lily Perez, Alejandro Navarro (MAS) and Alejandro Guillier abstained their votes, while former UDI, Jaime Orpis, despite being in the room, did not vote. Neither did UDI senator Ena von Baer, because she was not in the room.
Source: El Mostrador.