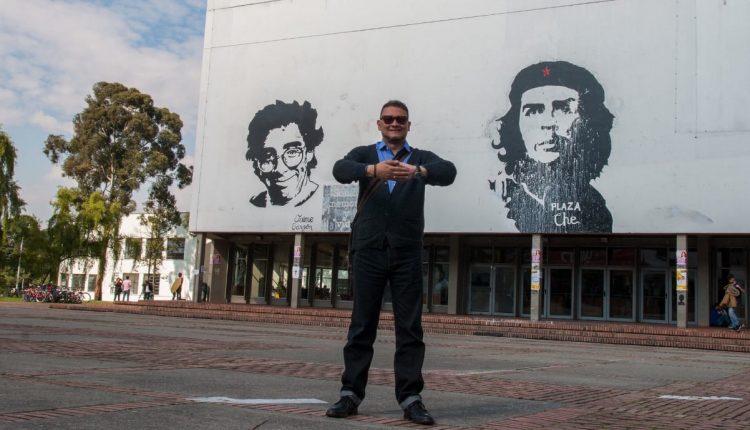 The academic community of the Universidad Nacional de Colombia, UNAL (National University of Colombia) will be selecting their favorite candidates for president on March 15. And on March 22, the Higher University Council will decide who will replace Ignacio Mantilla as head of the academic institution.
UNAL is one of the most important public universities of Colombia and is ranked eighth in Latin America. However, it has been facing infrastructure problems as several facilities are, literally, falling to pieces.
Fabián Sanabria, a former dean at the University and now candidate for president, made a stand against its most radical left-wing academics, "they are still hiding in their shells" he says. He disagrees with the idea that Che Guevara, a homophobic and racist historical figure, is used as the UNAL's emblem; a comment that was ill received by the most radicals at the university. However, he understands that for the leftists, Che is a symbol against the Colombian state's crimes and, if he is appointed as university president, he wouldn't remove his image from the León de Greiff auditorium.
To talk about these issues and his nomination to UNAL's rectorship, the PanAm Post interviewed the Sanabria, who said that part of the challenges are related to state funding shortfall and the huge bureaucracy of the institution.
You have questioned that UNAL should have as an emblem the image of Che Guevara, due to his homophobic, racist and death-loving character, but you also said you wouldn't remove his image from the León de Greiff auditorium if you are appointed rector. Why?
I don't agree his being the only "god in the UNAL pantheon". I think that's too much. We must be polytheists.  We must be pagan. I dream of Camilo Torres smoking a pipe instead of carrying a rifle… That will hurt the mamertería (by the way, I will explain where mamerto comes from: from the rigobertos, robertos and egbertos from the Communist Party that annoyed and annoyed and never proposed anything… That's the memerteria's problem… But I love the mamerteria, because among them are beautiful people. And beauty really puts me down. If I find a beautiful mamerto, for me that's pure love. I try to acknowledge beauty where, at first sight, is not recognized).
Closing these parentheses, I do not think it's very appealing that the image of somebody who didn't graduate from the university, who is completely a foreigner, is in the main square that has been clandestinely named with his name. However, I understand what people worship of Che's image at the Plaza Santander, home of the García Márquez library and of the León de Greiff auditorium, is not so much about the Che, but Che's image that was painted as a symbol against the victims of state terrorism. And that makes sense for the university. Also, I must recognize he was a sanguinary and homophobic character (he was one of the first figures to send homosexuals to Sierra Maestra. He believed that work will make men free. Similar to what Pentecostalists do, that with spiritual exercises they can cure homosexuality, despite those who are "cured" continue to be gay.)
You began your presidential campaign with the slogan: 'crooked left, shocked right'. Is this a criticism of sorts regarding the UNAL's in-house policy?
Our real slogan is 'A More Inclusive Alma Mater', and after an exercise of collective creativity, we discovered a salute that embodies bodily the Möbius strip -which is our symbol-, that when using the hands results in: crooked left, shocked right. When you usually greet somebody, you offer your right hand, but if then you offer your left one you're making the Möbius strip. Torsion is crucial in this exercise because it means being an insider and an outsider, being one thing and the other at the same time, although I leave the ideological interpretations to the reader and analysts.
For years it has been argued that it doesn't matter who the students' favorites are, because, in the end, the Higher University Council makes the decision according to what the government in power desires. Do you believe this is going to change in these elections?
That's not really a fair interpretation. The first 40 rectors were appointed by the President of Colombia. Atanas Mokus was appointed by César Gaviria Trujillo. It was during Atanas tenure when they made the decision to consult the academic community. Is not direct voting, is a consultation, and when professor Víctor Manuel Moncayo ran he was elected by the Government, according to the results he got during the consultation, both the first time and in his reelection. This is a very recent complex episode in the university's history, and it was after professor Páramo that the signature collection process began to suggest names to the Higher Council. With Moncayo, the consultation idea was endorsed, and he won two times, and in both was appointed as president. Afterward, Marco Palacios was appointed, then came Moisés Wasserman, and later Ignacio Mantilla, both had two terms.
The candidates that competed with both Wasserman and Mantilla, supported basically by a left-wing movement that won the consultation, were not appointed as president. And the reason why this happened was stated clearly by Fernando Sánchez Torres to the physician Mario Hernández when the latter ran the last time: "We know you won, but we wouldn't like to be prisoners of the movement that supports you."
The problem is, we have to say it with no doubt, that public universities, and some private ones, have been in their academic and higher councils electoral bunkers of some senators that have done a great job criticizing the government in office, but keeping there their electoral clientele. To the point that when the consultation happens, 10% of the academic community votes first, and part of that percentage, obviously, a large number, belongs to the left wing, which recently won. But I must say that part of today's left is "crooked" and lacks an official candidate for university president. They failed to reach an agreement. And I don't know why they didn't support professor Alejo Vargas, who had the opportunity to be in power. There's no doubt that president Santos would have appointed him because they are friends.
Why do you think that public universities in Latin America are the left wing's favorite niche to get supporters?
Not only the public ones, also the private ones have left wing's student's representatives, led by a great senator and a MOIR activist, who is very capable… and who is today an ally of the country's presidential candidate Sergio Fajardo.
Yes, but most of the left-wing supporters come from public universities.
Obviously, there is dissent. That's not new, nor that the university also nourishes critical thinking. And this is very important. I'm not undermining that reality. On the contrary, I think it's very important to have criticism. But something I must say to the supporters of critical thinking is that they lack consistency in their thinking because critical thinking that isn't self-critical is not critical. There must be self-criticism. And there is an essential element: the establishment is tired of those who criticize and criticize or said plainly, annoy and annoy, and never have any proposals. There is not a realistic proactive thing, only to change the economic model. Is incredibly unrealistic, in order to avoid commitment. Ideal models only exist in delirium. They exist as models, but not in the real world.
Critical thinking must be creative and proactive, and "the people united will never be defeated" is a tired slogan. Also, some truths should be said to a militant left-wing, which is still in their shell, still in their ivory tower, that does not know the world, that doesn't know how it works. And here we have examples in the world like Emmanuel Macron, who pulverized the extreme right and the extreme left because both didn't work.
Fabián Sanabria has a PhD in Sociology from the High Studies School in Social Sciences of Paris, a Master in Anthropology and in Political Sociology from the University of Paris 8, and an Anthropology degree from UNAL. In the UNAL, he has been director of the department of sociology and dean of the Human Sciences Faculty. Also, he was general director of the Colombian Institute of Anthropology and History, and general commissioner for the exhibition France-Colombia 2017.