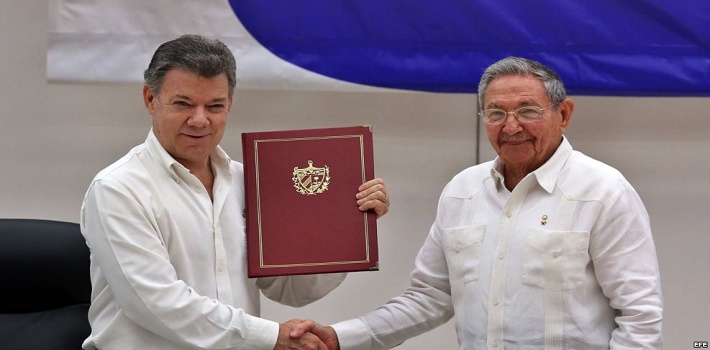 EspañolCuban President Raúl Castro arrived to Colombia this last Sunday, September 25 to attend the signing of the peace deal between the Colombian government and the guerilla group FARC — the vast majority of which was negotiated in Cuba.
The Cuban president climbed off the plane wearing a typical white guayabera hat to meet Viceminister of Colombia's Foreign Relations Patti Londoño.
The press were waiting as well, but Castro only greeted them with a wave of the hand and kept walking.
So far, a few other Latin American presidents have come through the Cartagena airport to attend the presentation this Monday. Last Saturday, it was Costa Rica President Luis Guillermo Solís.
Additionally: México President Enrique Peña Nieto, President of El Salvador Salvador Sánchez Carén and Kind of Spain Juan Carlos I, Chilean President Michelle Bachelet, Peruvian President Pedro Pablo Kuczynski and President of Guatemala Jimmy Morales, among others.
United States Secretary of State John Kerry and the Secretary General of the United Nations Ban Ki-moon are also expected to be in attendance.
The signing of the peace deal will ultimately see 2,500 national and international guests not to mention the leader of FARC Rodrigo Londoño Echeverri — also known as "Timochenko."
Source: El Nuevo Herald.