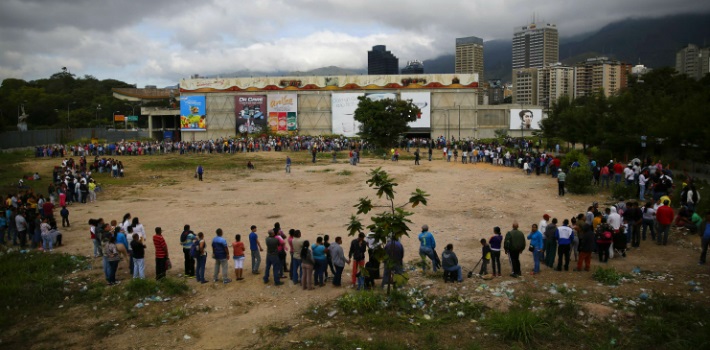 EspañolThe administration of President Nicolás Maduro has attempted to blame all the problems facing Venezuela on external forces, but has failed to take responsibility for the poor policies that the United Socialist Party (PSUV) has applied during the past 16 years.
It's impossible to choose only one of the problems that face the Venezuelan people without also mentioning its relationship to corruption.
"No justifying discourse is working. People are seeing private enterprise with fresh eyes and the government is trapped. Beyond blaming others, it doesn't propose solutions that people perceive as real," says social psychologist Colette Capriles.
"Many people don't believe the discourse that everything's perfect. They say that the problem isn't supply, but demand, that people are consuming too much, when the reality is that the productive apparatus is paralyzed and can't guarantee the supply of basic products," she adds.
Capriles further indicated that only 25 percent of Venezuelans professing to support Chavismo really believe that shortages are due to the so-called economic war with the United States.
How does corruption affect the everyday problems of Venezuelans? Multiple experts told the PanAm Post how five official arguments about economic difficulties in reality obscure the embezzlement of public funds on an industrial scale.
"Dollars Belong to the People, Not the Oligarchy"
Exchange controls have been in place in Venezuela since February 2003, when then-President Hugo Chávez created currency administration commission Cadivi. The argument was the supposed flight of Venezuelan capital caused by private firms. Twelve years later, the system has gone through three name changes, and now boasts three official exchange rates and one parallel (informal) rate.
"The source of the problems is a highly primitive economic model. When permanent controls and intervention are installed, corruption and inefficiency grow. This is key to understand what's happening in the country," said Luis Vicente León, president of polling firm Datanálisis.
It's estimated that over US$20 billion of public money went missing via Venezuela's multiple foreign currency acquisition mechanisms in 2012 alone. According to economist Francisco Faraco, corrupt officials have embezzled $250 billion in 12 years.
But according to commercial body Conindustria, private enterprise has been the biggest casualty of controls, with 5,000 firms going under since 2003.
"Food is Scarce Because People Are Eating More"
The first restrictive maneuver Hugo Chávez imposed on the food sector was price controls on the products of the basic shopping basket: products like rice, flour, pasta, cheese, meat, and coffee, which subsequently began to disappear from shelves.
In subsidized food initiatives developed by the state emerged another niche for corruption. Soon after state petroleum firm PDVSA and its sister company PDVAL began to import foodstuffs in 2010, a huge amount of food was soon discovered rotting in shipping containers in multiple ports. Over 170,000 tonnes of imported food was wasted, while only three PDVSA directors were prosecuted.
"The government insists that everything is perfect, that the problem is not supply, but demand, that people are consuming too much and that these are the evils of capitalism. This discourse that the revolutionary man lives on the essentials and without needs is completely psychotic and absurd, and it has nothing to do with Venezuela's societal expectations," Capriles argued.
"People Are Wasting Energy" 
Vice President Jorge Arreaza and Electrical Energy Minister Jesse Chacón announced one month ago that all state bodies would would now only work from 7:30 am to 1:00 pm as an energy-saving measure. Arreaza claimed the excuse that energy usage had increased in residential areas due to high temperatures in recent months.
"So much intervention and so much control bring as a consequence everything that Venezuela's living through, and it has one name: corruption, in all the sectors of the economy. Nor is there any desire to make investments, and costs are increasing, above the real price of goods and services," León told the PanAm Post.
The government insists that demand has increased, but the total consumption of the country has remained stable at 18,000 megawatts — the same as in 2009, when the government announced an investment plan that resulted in multiple corruption allegations. Huge amounts of public funds were siphoned off to private accounts held with the European principality of Andorra.
"Venezuelans Take Too Much Medication"
Another serious ill resulting from the politicization of exchange controls in the country and fall in global petroleum prices is the lack of basic medicines in Venezuela.
The crisis in the pharmaceutical sector is so extensive that Venezuelans can now no longer secure contraceptive pills, condoms, aerosol deodorants, nappies, or baby milk formula, among other items.
On at least three occasions since 2009, the government has had to burn expired medicines. In the same year, the government announced the construction of a state "factory of essential medicines." The facility never materialized, despite the government continuing to assign it taxpayers' money, according to Congresswoman Dinorah Figuera, a doctor who heads the parliamentary bloc of opposition party Justice First (PJ).
Nevertheless, Health Minister Henry Ventura recently announced the creation of the Integrated Medicine Access System, arguing that Venezuelans "consume far more medicines than Brazilians," and that it's necessary to control stocks of the same.
"They Want to Go on Vacation Every Year"
The Venezuelan regime has a debt of over $3.5 billion with over 20 international airlines due the inability of these firms to change ticket sales in bolívares into dollars. The result is that the country now faces near-isolation.
The first carrier to announce its exit from the Venezuelan market was Alitalia, after the Venezuelan government racked up debts of $177 million with the Italian national airline.
Government spokesmen have argued that Venezuelans only travel "to spend their quota of cheap dollars," and has charged over 800 people with allegedly using their travel allowance "in a fraudulent way."
"This situation of corruption at every level is exacerbated with happenings such as parliamentary elections. Opposition sectors should be capitalizing on the crisis through a discourse that generates a credible hope for change. It can't only be an attack on the government, you also have to generate empathy," León concluded.