EspañolEl Salvador's Presidential Press Secretary Eugeno Chicas has claimed that increased numbers of homicides in the Central American nation in recent days are due to criminal gangs coinciding their activities with the beatification of Archbishop Óscar Romero, due for May 23.
Chicas told a local television channel that gangs were hoping to secure the world's attention during the increased media spotlight on El Salvador, as the Vatican takes the penultimate step towards sainthood for the former Archbishop of San Salvador, who was assassinated in 1980.
"I believe that the gangs have decided to increase their attacks for the beatification event and for the first anniversary of the government of President Salvador Sánchez Cerén," Chicas said.
"They know the religious event will put El Salvador under the world's gaze," he added.
Extreme Violence
His comments come after police unveiled the latest homicide statistics over the weekend, which showed that 62 people had been killed in barely 48 hours in the capital, making it the most violent weekend so far in 2015.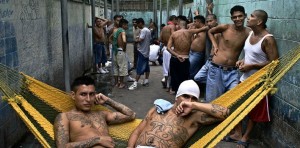 Mexican NGO Seguridad, Justicia y Paz noted in its report for 2014 that the homicide rate in San Salvador is 62 for every 100,000 inhabitants. As such, the city occupies position number 13 in the 50 most violent cities in the world.
According to the organization's analysis, another two cities in Central America register even higher homicide rates. The list is headed by San Pedro Sula, Honduras, which saw 171 murders for every 100,000 residents. In second place was the central district, including the capital city of Tegucigalpa, whose rate was 77 for every 100,000 people.
According to the report, 1,067 people lost their lives due to criminal violence in the 14 districts of the San Salvador Metropolitan Area during the whole of 2014.
Source: Elsalvador.com.