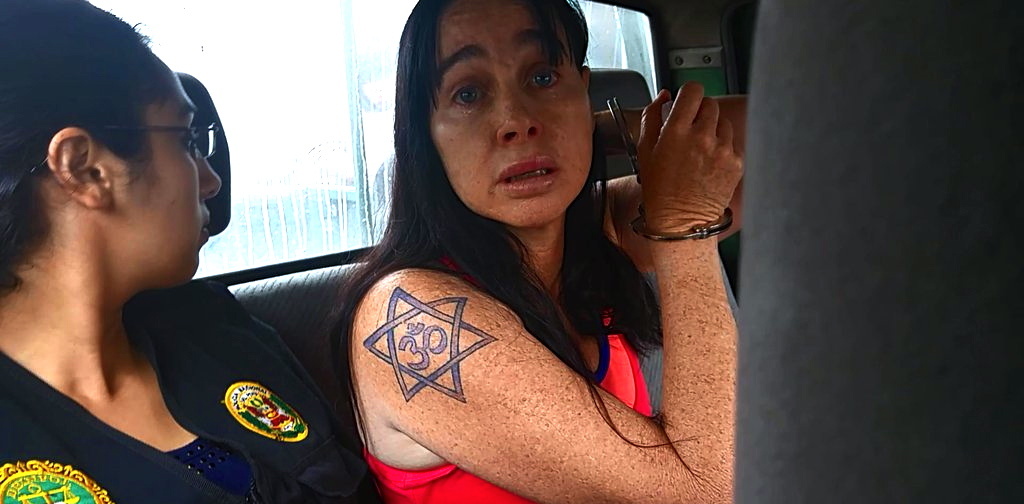 What started out as a routine parking violation outside of Lima's Jorge Chávez International Airport has now quickly turned into a local controversy. On Sunday, three days after the arrest of Silvana Buscaglia Zapler, the Superior Court of Justice in Callao, Peru, sentenced the woman to six years and eight months in a prison cell for resisting authority and aggravated violence against a police officer.
A video of the incident, which has now gone viral, shows the woman confronting Elías Quispe Carbajal as he writes up a ticket for illegal parking. She then pushes the officer away from her while yelling at him to stand back from her car. When Carbajal approaches her a second time, the woman swipes at the agent's hat, knocking it off his head.
A heated exchange ensued between Buscaglia and police, before the woman returned to her car to leave. However, two officers stood in front of the car blocking her path. Authorities eventually detained the woman and transported her to a police station.
While under police control, Buscaglia maintained her innocence and accused the police of abuse of power.
On Friday, she posted on her Facebook account: "I believe I've been trapped. I don't know what the police wanted, but they finally have me detained at the precinct. They won't let me leave, as I'm a delinquent. Nor will they allow me to file a complaint for abuse of power."
Yet, during the hearing on Sunday, with an attorney by her side, Buscaglia changed her tone and apologized for her actions.
"I want to apologize to the gentleman if I indeed injured him or if I raised my hand against him. I made a mistake. It was an error," the defendant pleaded.
The defendant's admission of guilt in the courtroom wasn't enough, according to the judge, who also demanded that Buscaglia pay a fine of PER$10,000 (US$2,950).
Shocked by the judge's announcement, the defendant's family rejected the court ruling: "[The judge's ruling] is not justice; that is taking advantage of good people," said Buscaglia's son, shortly after the hearing. Later, family members verbally threatened Carbajal as he left the hearing.
Public opinion, via social media, appears to be shifting in the capital city. While many initially criticized the woman's actions in front of the airport, several tweets and Facebook messages now question the lengthy sentence and the short timeframe by which the judge came to his conclusion.
However, the officer's attorney seemed pleased with the ruling: "This sentence will demonstrate to people that you must respect police authorities, and it will help ensure that this doesn't happen again."