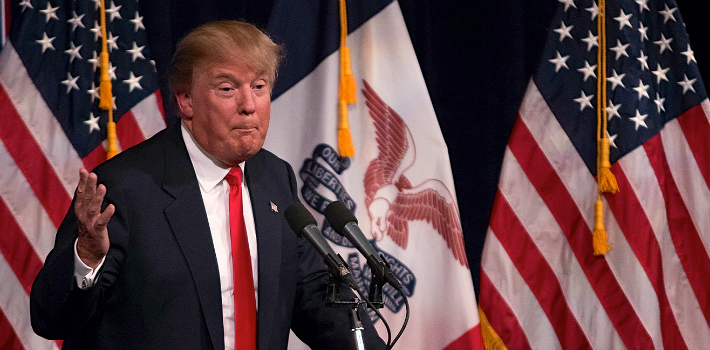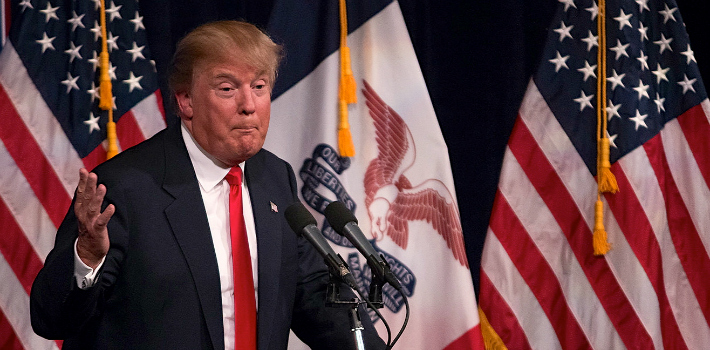 EspañolThe Latin American mainstream press appears to be baffled by Donald Trump's growing poll lead in the Republican presidential race.
Take, for instance, this sentence in a recent El Espectador report, titled "Hurricane Trump: A Nightmare for the Republican Party":
To add insult to injury, Trump's controversial plan to ban Muslims from entering the United States hasn't dented his popularity one inch according to recent polls.
The Bogotá daily seems to be as bewildered as Old Hag columnist Frank Bruni, who recently wrote the following about Trump's rising support among evangelical voters: "there's no sense in the fact that many of the people who most frequently espouse the Christian spirit then proceed to vilify immigrants, demonize minorities, and line up behind a candidate who's a one-man master class in such misanthropy."
The shared perplexity is no coincidence; traditional Latin American newspapers such as Colombia's El Tiempo and El Espectador usually draw their sources from the New York Times or Washington Post, which they not so humbly regard as their US "counterparts." And, like the Times and the Post, they are apparently getting a fair amount of internet traffic by covering "The Donald" and Trumpismo.
In both cases, there is the false assumption that the Times' progressive Weltanschauung represents an overwhelming majority opinion. But as Douglas Murray writes in the Spectator, progressives' intolerance and their refusal to call certain things — Islamic terrorism, for instance — by their proper name is directly responsible for Trump's rise in popularity:
The American left has a huge problem in the form of a president who refuses to name Islamist terrorism or identify where it comes from. His likely successor, Hillary Clinton, has the same issue. Of course the word-play this leads to may be perfectly well-meaning … [but] not identifying where [Islamic terrorism] comes from becomes part of the problem, driving people on all sides mad with rage and making them wonder what else is being kept from them.
Murray concludes that progressives leave "the ground wholly open for anyone else to do or say anything they want." Which is precisely the void Trump is filling each time he directs his verbal broadsides at the huge targets that politically correct culture has created, it seems, exclusively for him.
By stifling free speech, political correctness also prevents inquiry into the causes of phenomena which make bien-pensants uneasy, such as the fact that, according to polls, Americans tend to have a negative opinion of Muslims.
Recently, David French wrote in National Review that Americans' unfavorable view of Islam might surprise mainstream media pooh-bahs, since their intention has never been to spread Islamophobic views. But academic and media types, French claims, don't take into account "the experience and testimony of the more than 2 million Americans who've served overseas since 9/11 and have experienced Islamic cultures up-close."
He adds that US servicemen have witnessed "a brutally violent and intolerant culture. Women were beaten almost as an afterthought, there was a near-total lack of empathy for even friends and neighbors, lying was endemic, and sexual abuse was rampant."
This would mean that polls "are at least partly registering the results of a uniquely grim American experience," which is spread among the population through non-media channels when soldiers tell their friends and family of their encounters with Islam.
Now, French's thesis might be wrong, and anyone might question accusations of brutal violence coming from someone who defends the institution responsible for torture at Abu Grahib and for many civilian deaths in the countries it has needlessly invaded. But at least this explanation for Americans' dislike of Muslims deserves some thought.
Sadly, progressive outlets, including practically all the Times-worshipping Latin American media, are unwilling to let their readers even think about such issues, since they lie beyond the narrow bounds of political correctness. As Murray says, this reluctance to mention uncomfortable issues is precisely what allows Trump to make outrageous, "back of the envelope" statements and fully get away with it.
The Latin American media's Trump coverage also suffers from a dire lack of ethical consistency, particularly concerning his position on illegal immigration.
El Tiempo, for instance, writes that Trump's proposals to build a continuous wall across the entire southern US border — paid for by Mexico — and to deport 11 million illegal immigrants have created "a wave of rejection among Latino voters." The daily adds a list of organizations and celebrities who have condemned Trump's statements, such as rapper Pitbull and pop-singer Shakira, who labelled Trump a racist.
This non-analytic piece doesn't begin to take into account the considerable difficulties involved with migrating legally to a Latin American country such as Colombia. The plethora of paperwork involved and the Colombian state's bureaucratic incompetence in handing out national ID cards to foreigners, however, are relatively minor problems.
According to Cuban migrants traveling from Ecuador to the United States, their trip's highest costs came in the form of the bribes they were forced to pay the Colombian authorities so they could pass through the country. The Colombian media haven't covered this.
Nor, in their obsession with Trump, have they given much attention to Nicaraguan President Daniel Ortega, who decided not to bother with walls to keep Latin American migrants out of his country. Rather, he deployed the army against Cubans trying to enter Nicaragua.
Hypocrisy in the immigration debate has reached such heights that the Latin American media has given free pass to the Mexican government, which deports more Central American immigrants each year than the United States itself. For El Tiempo and the like, however, it is far more newsworthy to report what a gangster rapper who beats Trump hands down in the vulgarian sweepstake has to say about a very complex policy dilemma.
In doing so, the press is missing a great opportunity. Trump's wanton statements point to the underlying question at stake: why, in the first place, are millions of people willing to leave behind their Latin American homelands — often undergoing great physical danger — in order to reach the supposedly hated Yankee empire?
Could this possibly have to do with the United States' greater respect for economic freedom and property rights? The rule of law? Sound money? If you think the Federal Reserve is bad, try the Colombian central bank. What about generally effective federalism and localism? The ability to trade freely with much of the world? Transparency and a lack of corruption in broad terms? All standards, in other words, which most Latin American governments abysmally fail to meet.
From another standpoint, could Trump possibly have a point when he suggests that illegal immigration is terribly unfair to those of us who follow the rules, stand in line, and wait to pay for a visa in US embassies across Latin America?
Trying to answer such questions could lead to serious debate. The media, however, prefer to bypass this option altogether. By simply citing a pop star who says Trump is a racist, all important questions can be swept quietly under the rug.