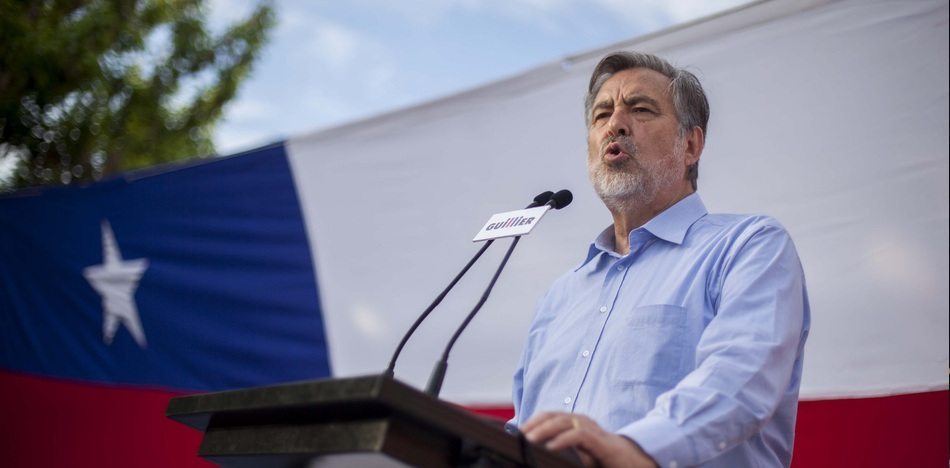 EspañolThe second round of Chilean presidential elections is approaching, and candidates are ramping up their campaigns. Recently, supporters of the conservative candidate and former President Sebastián Piñera have brought up the dictatorship in Venezuela, stating that a win by opponent Alejandro Guillier would mark the beginning of "Chilezuela."
On Tuesday November 21, the congresswoman from the Renovación Nacional party, Érika Olivera, also suggested in an interview that as President, Guillier would lead Chile down a similar path to crisis that Venezuela currently finds itself in.
"I wouldn't want to live in a country like Venezuela," she said, in reference to its hyperinflation and food crisis caused by the socialist policies of the Nicolás Maduro regime. "I mean it. I wouldn't want my kids to grow up in a world like the one we see on TV."
The congresswoman's comments were shared through social media, causing controversy in the country. In the video — taken from a TV show called Mentiras Verdaderas (True Lies) — a fortune teller named Deseret Tavares uses tarot cards to predict that Guillier will be the next president, which will result in a "quasi-apocalyptic" communist fate for the country.
The segment aired in October, and Tavares claimed that the next Chilean government would be "lost and treasonous," and also called Guillier "dangerous". Both statements caused an uproar on social media, as Chileans began to speculate about the possibility of "Chilezuela" — a word that began to trend on Twitter.
https://twitter.com/FranciscaSG11/status/932957455864160256?ref_src=twsrc%5Etfw&ref_url=http%3A%2F%2Fwww.biobiochile.cl%2Fnoticias%2Fdeportes%2Fmas-deportes%2F2017%2F11%2F21%2Flos-polemicos-dichos-de-erika-olivera-contra-proyecto-de-guillier-no-quiero-un-venezuela.shtml
https://twitter.com/Ivoaravena/status/933123422426628096
This isn't the first time countries around the world have used Venezuelan crisis as a political flag to "scare" voters away from Maduro's style of government.
During Peru's 2016 presidential elections, candidate Veronika Mendoza was called "Chavista" after she said the governments of Venezuela, Ecuador and Bolivia — all under socialist leaders at the time — had been able to  "defend their sovereignty" in the face of alleged coups d'états.
In Chile, Piñera, couldn't help but react to the controversy. "Regarding what Erika says, look, it's very simple: We represent a path that brings us closer to getting ahead as a nation. Nueva Mayoría represents a path that won't help us get ahead, which brings us closer to stagnation and danger."
Piñera warned that "without a doubt, Chile is not Venezuela, but beware, because the future of countries is unwritten, and their progress is not guaranteed."
In August, the Chilean pro-government candidate was criticized by the opposition after he did not cast a Senate vote for a project condemning the violence in Venezuela.
Inaceptable q senador Guillier salga d la sala cuando se votan proy. de acuerdo condenando las acciones antidemocráticas del Gob. de Maduro

— Alberto Espina Otero (@albertoespina) August 1, 2017
When asked if the situation in Maduro's Venezuela could be called a dictatorship, Guillier said "It's no longer a democratic regime, and we have to unite as a nation in supporting human rights." Those comments were called "ambiguous" by opposition leaders.
Lo mejor de la contracampaña contra la "campaña del terror" es que la izquierda reniegue del modelo venezolano. Aunque sea de la boca para afuera.

— Claudio Palavecino (@PalavecinoCL) November 23, 2017
Tweet: The best thing the left can do to counteract the accusations of being a "campaign of terror" is to disavow the Venezuelan model, if they don't mean it. 
Despite the fact that the right-wing candidate Piñera won the first electoral round with 44 percent of votes, it's still possible that he won't win the Presidency, as the leftist parties could join forces in order to gain an advantage for Guillier.
Among the eight candidates who faced each other in the first round, the leftist candidates obtained more than 3.6 million votes compared to the right's 2.9 million.
The hopes for former President Piñera now fall on the voters who favored José Antonio Kast and who didn't participate in the first round. Those groups could make the difference for Chile's future.
Sources: AhoraNoticias; BioBio.