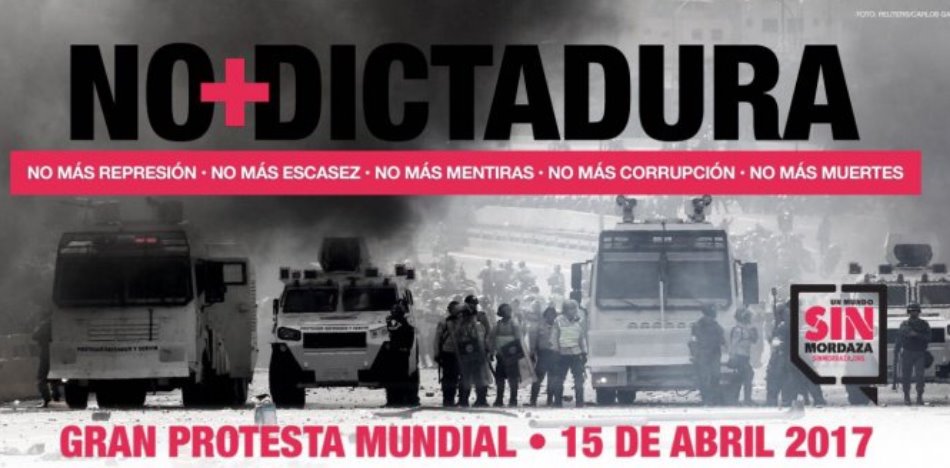 EspañolVenezuelans plan to protest against President Nicolás Maduro's regime on a global scale this Saturday, April 15.
NGOs across the world are organizing efforts to demonstrate against Maduro's oppressive and violent government, which is feeling international pressure to restore constitutional order amid widespread famine and medical shortage.
The NGO "A World Without Gag" called on Venezuelan immigrants to join the protest Saturday, April 15 and demand justice, freedom, peace and safety for all still in the country.
They will ask global authorities to make statements about the rupture of the constitutional thread in Venezuela as well as the demand for elections, according to President of the organization Rodrigo Diamanti.
"We call on Venezuelans around the world to creatively join us once again and raise our voice, now shouting: No more repression! No more dictatorship! No more abuse of power! No more death! No more violence!" Diamanti said.
He also called on expatriates to contact the NGO via email ([email protected]) so everyone can better coordinate.
"There are many ways to help: carrying banners, artists can play musical instruments — because we want to make this a different protest," Diamanti said. "The idea is for each demonstration to express: No more" .
The initiative has the support of the Venezuelan Penal Forum, Venezuelan Women in Action and other groups.
Sources: Diario Las Américas; Efecto Cocuyo