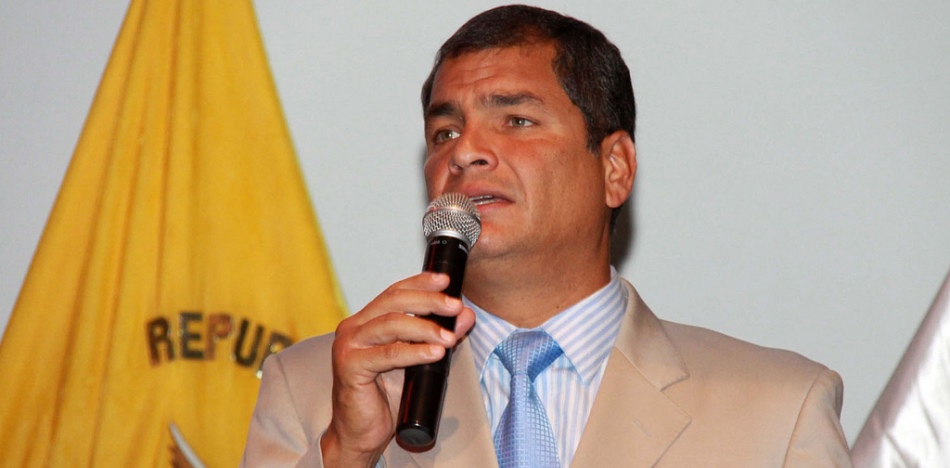 Rafael Correa, outgoing president of Ecuador, said that opposition candidate Guillermo Lasso lost 100 votes while ruling party candidate Lenin Moreno gained 143 votes in the recount of the election results.
296.340 votos han sido recontados hasta el momento: Lasso bajó 100 y Lenín subió 143 votos.
Las elecciones han sido impecables, y ellos…

— Rafael Correa (@MashiRafael) April 11, 2017
Tweet: 296,340 votes have been recounted until now. Lasso dropped 100 and Lenin increased 143 votes. The election was impeccable, but they…
He also said that "the usual ones" want to "stop the citizen's revolution no matter what, and to achieve this they do not hesitate to create a climate like Brazil or Venezuela."
…vuelta, sólo para quedar en ridículo.
La verdad: los de siempre quieren parar la Revolución por las buenas o por las malas, y para…

— Rafael Correa (@MashiRafael) April 11, 2017
Tweet: …round, they looked ridiculous. The truth is: the usual suspects want the stop the Revolution no matter what…
The current Ecuadorian leader's declarations were in response to the National Electoral Council's (CNE) confirmation of the electoral results which declared Moreno as the winner with 51.15% of the votes.
According to the CNE, Moreno was elected as president of Ecuador with 5,060,424 votes, while Guillermo Lasso got 48.85% with 4,833,828 votes.
Lasso insists that the election was fraudulent and that he is the real winner, so he will challenge the results on Wednesday April 12th.
Lasso went into the second round of Ecuador's presidential elections with the wind at his back, in the wake of numerous high-profile endorsements and a campaign that generated enthusiasm among Ecuadorians tired of 10 years under Rafael Correa's Alianza Pais.
Yet, Lenin Moreno ran a solid campaign, and had the advantage in polls heading into the April 2 vote.
However, exit pollster Cedatos showed Lasso defeating Moreno 53% to 47% on election day, a significant disparity with the official election results.
Another Perfiles de Opinion exit poll showed Moreno defeating Lasso 52% to 48%. As Correa tweeted on election night, "Someone's lying."
Lasso has argued that an electoral fraud tipped the hotly contested election to Moreno, and he is prepared to challenge the official results in the courts.
Sources: El Comercio; La República