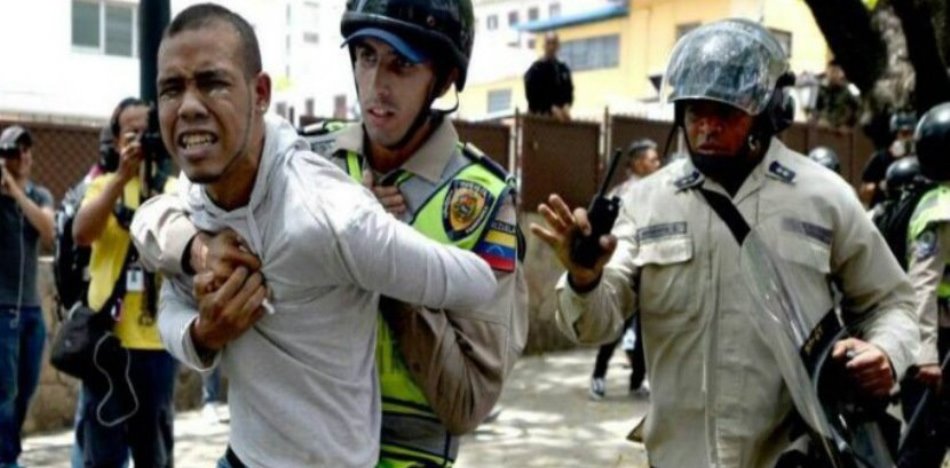 EspañolVenezuela enraged after El Sistema musician brutally beaten by police: While the opposition marched in Caracas, a musician was on his way to rehearse with the symphony. However, he never made it because he was brutally beaten by the police even though the only "weapon" he had was his musical instrument.
His name is Frederick Pinto. He is 22-years-old and a member of the Youth Symphony Orchestra at the Chacao Theater. For no reason, he was detained and beaten by the National Bolivarian Police (PNB).
A videos shows how the musician was carrying his instrument while screaming, "I am musician, I am musician".
https://www.youtube.com/watch?v=42aZFEnmgdY
Due to his detention, a concert that had been scheduled for today was canceled.
The mayor of Chacao, Ramón Muchacho, reported that the musician's whereabouts were unknown for hours, but he was finally released on Tuesday.
Pinto's arrest was not the only one that took place this Tuesday during the opposition's protests in Caracas. According to the director of the Venezuelan Penal Forum, Alfredo Romero, there are still 14 people under arrest.
#5A A esta hora se encuentran al menos 14 pnas arrestadas en Helicoide x protestas ayer. Músico Frederick Pinto fue liberado en la madrugada

— Alfredo Romero (@alfredoromero) April 5, 2017
Brutal beatings that go unpunished
The musician's beating was not the only event that was caught on tape, as several flagrant human rights violations were registered on Tuesday and in all cases remain unpunished.
Another video that was shared on social media networks in Venezuela shows how a group of policemen repressed the opposition protest, beating a woman who was part of the demonstration. The guards left her lying on the ground.
No es Siria, en #Venezuela, y así es como la policía golpea brutalmente a un manifestante casi moribundo mientras pensaba que nadie los veía pic.twitter.com/0kL9tbQrZW

— Yusnaby Pérez (@Yusnaby) April 4, 2017
Tweet: It's not Syria, it's Venezuela, this is how the police brutally beat protestors, nearly killing him, while they thought no one was eatching.
At least five member of Parliament were injured during the protests due to police brutality.
Congressman Juan Guaido was assaulted during the demonstration, while Richard Blanco was hospitalized because police officers threw tear gas at his face.
Another beating that has remained unpunished was perpetrated by officials of the Bolivarian National Guard against Caracol Radio news reporter, Elingelica González. With no prior explanation, policemen beat her on the ground while she was doing her job as a reporter, defenseless.
https://twitter.com/TemplarioResisT/status/847928763023228933
Tweet: 10 GNB policemen brutally beat Caracol Radio news reporter Elyangelica Gonzalez.
That same day, the opposition member of Parliament Juan Requesens was brutally injured by groups that support the ruling party. A glass bottle was broken over his face, which required 50 stitches.
¿Quién es el cabecilla de los colectivos violentos que agreden a diputados y líderes opositores? https://t.co/jyArLhdVvC pic.twitter.com/m0bNdOXIzN

— NTN24 Venezuela (@NTN24ve) April 4, 2017
Tweet: Who is the leader of these violent groups that attak members of congress and opposition leaders?