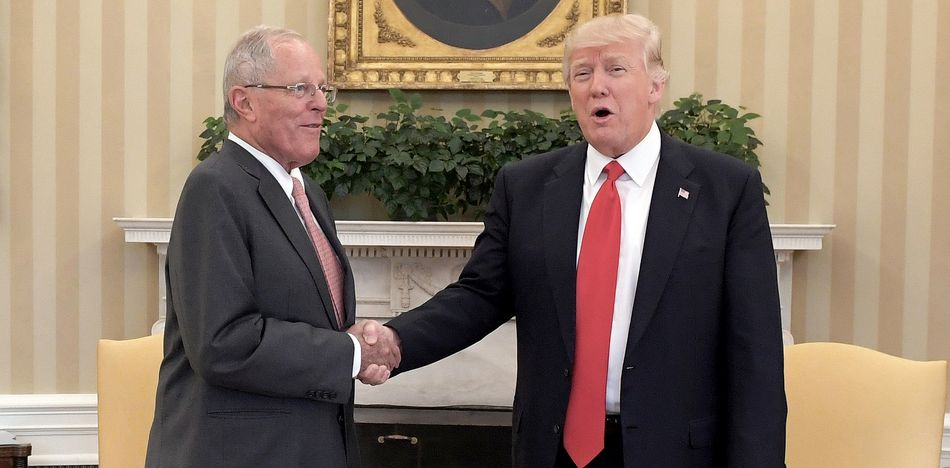 Peruvian President Pedro Pablo Kuczynski (PPK) said he was grateful to his US counterpart, Donald Trump, for his help during the floods that have devastated Peru.
PPK said that Trump called him to offer his help during the massive rains, floods, and landslides that have dramatically affected the north of the country.
Likewise, PPK stated that just as he requested, the Republican president will send two Hercules cargo planes that will arrive on the night of Wednesday April 5.
Le pedí dos aviones de carga Hércules, que llegan esta noche. Gracias EEUU y presidente @realDonaldTrump por la ayuda.
(2/2)

— PedroPablo Kuczynski (@ppkamigo) April 5, 2017
"I asked him for two Hercules cargo planes, which will arrive tonight. Thank you USA and President Donald Trump for your help."
The United States has already sent ten helicopters and one plane to work in the areas of the country most affected by the damage. In addition, the US government collaborated with USD $1.5 million.
According to a statement issued by the White House on Monday, April 3, Trump also offered his condolences "for the recent tragic loss of life and for the devastation in Peru due to floods and landslides."
In Peru, the non-stop rainfall has left a total of 106 people dead, 9 missing, 353 injured, 140,000 with serious material losses and at least 960,000 affected, so far.
Local authorities estimate that the storms and landslides have damaged 205,640 homes.
The embassies of Peru and its consulates worldwide, published information regarding how to make contributions for the civilians affected by the catastrophe.
The Ministry of Foreign Affairs published a list of 35 countries where economic support is being collected.
The South American countries included are Bolivia, Venezuela, Ecuador, Colombia, Brazil, and Argentina. But nations across Europe and North America are also participating.
Heavy rains in South America were also the cause of the recent devastating flooding and landslides in Mocoa, Putumayo, located in southwestern Colombia.
Sources: El Comercio; Perú21