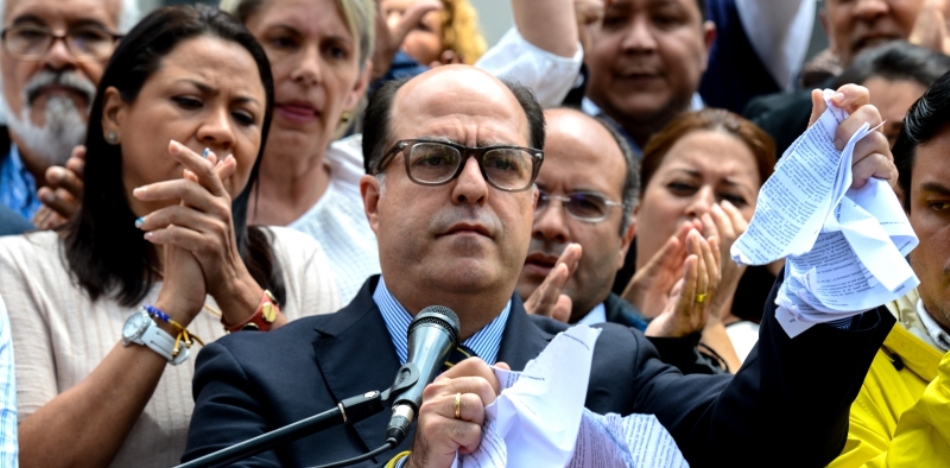 After hearing the ruling of the highest court in Venezuela in which the approved the annulment of the Parliament, members of Congress protested and held a press conference outside of the court. In the midst of this, the Venezuelan military struck members of Congress.
Officers of the National Guard physically assaulted several deputies who only expressed their opposition to the court's ruling. The deputies attacked were Marco Bozo, Carlos Paparoni, and Juan Requesens.
The National Assembly's board of directors called Judgment 156 of the Constitutional Chamber of the Supreme Court of Justice (TSJ) as a coup d'etat in which it ruled that the judiciary would assume full parliamentary powers.
"This is a coup, it is a dictatorship and in all the nations of the world, all the alarms must be turned on. This National Assembly does not know the TSJ. This Assembly refuses to recognize and ignores this sentence of the Supreme Court," emphasized Borges.
"We were chosen by 14 million Venezuelans … You are not going to go unpunished, we are going to make denunciations inside and outside Venezuela for your crimes against humanity," he said.
He also commented "What is the difference of this sentence with the previous ones? That this sentence grants all the powers to Nicolás Maduro to make the laws that he pleases."
Borges called on the Bolivarian National Armed Forces (FANB) to ignore the last two rulings of the Supreme Court of Justice and restore Constitutional order.
The president of the National Assembly, Julio Borges, announced in the wake of the Supreme Court's recent ruling, that the opposition will take to the streets in protest. The first will take place this Saturday, April 1.
"We call for different street actions in which we hope the people will accompany us. We know that there is fear and repression but this is the time to make your voice heard," he stated.
The Supreme Court, which has heavily favored the regime of Nicolás Maduro, ruled that the National Assembly, in which the opposition enjoys a large majority, will no longer exercise its function, because they supposedly remain in contempt of the court.
The judicial ruling declares the "National Assembly out of Constitutional order" and warns that "as long as the contempt and invalidity of the proceedings of the National Assembly persists, this Constitutional Chamber shall ensure that the parliamentary powers are exercised directly by this Chamber, in order to ensure the rule of law."
Source: La Patilla