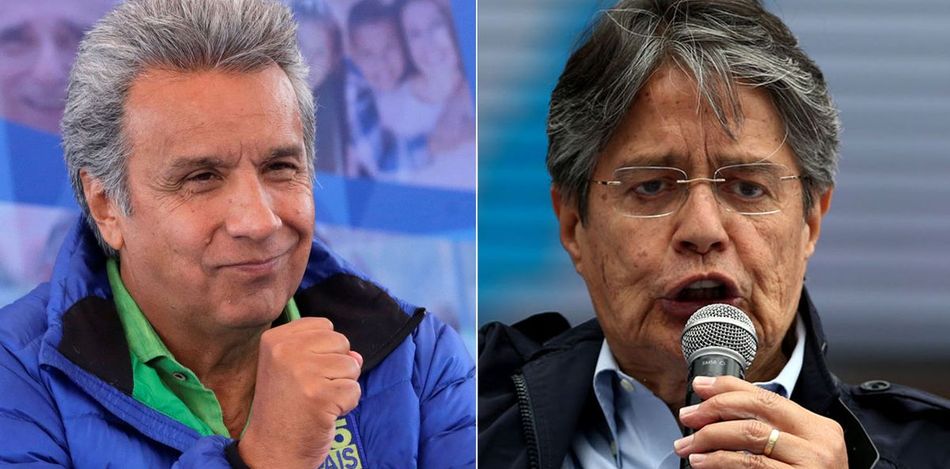 Guillermo Lasso and Lenin Moreno officially closed their campaigns tonight, in accordance with Ecuadorian electoral law, as they head to a second round runoff election on April 2 that appears to be very close. Lasso gathered steam in the wake of his advance to the second round, receiving important endorsements from several former rivals for the presidency, including Cynthia Viteri of the Partido Social Cristiano, Paco Moncayo of Izquierda Democratica, and Dalo Bucaram of Fuerza Ecuador.
He appeared headed for victory, but the strong political machinery of Rafael Correa's Alianza Pais party appears to have swung into full force, with recent polls giving a slight edge to former vice president Lenin Moreno.
What is certain is that Ecuador, like its Andean neighbors Peru, Colombia, and Venezuela, appears to be sharply divided politically, which is certain to be reflected in Sunday's electoral results. The final week of the campaign was full of controversy, as Lenin Moreno refused to participate in debates with Lasso…neither the event organized by the Guayaquil Chamber of Commerce, nor the the debate organized by the regime-affiliated teacher's union.
Lasso also was at the center of a political firestorm during Ecuador's Tuesday night World Cup qualification soccer match with Colombia. Lasso was in attendance with his wife and son, and was the subject of quite a spectacle in which Moreno supporters taunted and jeered him in the Estadio Olimpico Atahualpa. As Moreno exited the stadium after the match, he had to be protected by a police detail, as Moreno supporters began throwing bottles, cans, and rocks at the candidate and his family.
It remains to be seen what electoral impact these two events might have, but it would be reasonable enough to assume that they would be favorable developments for the Lasso campaign.
Moreno closed his campaign with a massive rally Thursday night in Quitumbe, in the south of Quito, in front of a crowd of tens of thousands. He was accompanied by his running mate, current vice president Jorge Glas. Moreno spoke for an hour to an enthusiastic crowd, confident of victory. His speech consisted of typical Alianza Pais fare, including sweeping promises to provide free healthcare and education to all Ecuadorians, build more housing for the poor, crack down on drug trafficking and crime, and maintain a steady hand with the nation's economy in the wake of the troubling fall in petroleum prices, which has greatly affected the Andean nation's coffers.
He took several swipes at his opponent, former Guayas governor Lasso, whom he frequently referred to as the "banker candidate"…alleging that Lasso would rule in favor of the interests of the nation's wealthy elite, while calling his plan to eliminate 14 taxes irresponsible, and impractical, saying that the lost revenue for the state would result in the inability of the government to pay the salaries of 230,000 teachers. Moreno pledged to lower taxes in the nation, but to do so gradually, noting that Correa had already lowered the nation's value-added tax from 14% to 12%.
He particularly emphasized his plan to offer free university studies to every high school graduate, young or old, getting laughs from the crowd when he noted that even Guillermo Lasso could take advantage of his proposal to enroll in university studies if he so desired.
The Moreno event also featured live entertainment, with legendary Colombian vallenato singer Jorge Celedon delighting the crowd with an hour of his hits, accompanied by a full band.
Guillermo Lasso held a Wednesday night end of campaign event in Quito with mayor Mauricio Rodas, in the Tribuna del Sur, where he focused on his central campaign pledge to create one million new jobs in Ecuador, and promised to return the Andean nation to true democracy. He also highlighted his proposal to expand public transportation access in the north of the city, by building a new electric train. He further emphasized that he will continue with the same social investments of the previous government with regard to healthcare and education, but pledged to lower taxes as a mechanism to drive economic growth.
Lasso took aim at his political opponents, accusing them of being "cowards" in the way they conducted themselves at the Ecuador-Colombia soccer match, stating that, "a cowardly attack was provoked by gangs of foreign mercenaries who went to the stadium with tickets purchased by government institutions," and adding that "the shout of Quitenos for freedom is louder than the horns of my political opponents." Recent evidence has confirmed that the government bought large blocks of tickets for the match, which presumably went to Moreno supporters.
Lasso has also emphasized that he will overturn Ecuador's Communications Law of 2013, which he claims stifles freedom of the press and investigative journalism. He noted that such laws prevent journalists and media outlets from doing their job with respect to exposing and rooting out corruption. He also played up his support of large scale investments to provide electric power to remote rural areas, noting that this would help the nation's farmers and agricultural sector.
Quito and the surrounding Pichincha province will be pivotal to the election. Only Guayaquil and Guayas province are richer with respect to votes. During the first round election Moreno bested Lasso 37% to 32% in the capital region, but Lasso has since picked up key endorsements, and counts with the backing of the popular mayor.
On Sunday, all eyes in Latin America will be on Ecuador, where the polls will be open until 5pm, when the pollsters will be allowed to reveal their electoral predictions. Official results are expected to begin arriving several hours later, but following the lengthy vote counting process in the first round, all bets are off as to how long the Consejo Electoral Nacional (National Election Council) will take to finish its count.
Fundamentally, Ecuadorians will be asking themselves: Do we continue with 10 years of Rafael Correa's brand of left-wing populism? Or do we vote for a change?
In three days that question will be answered.