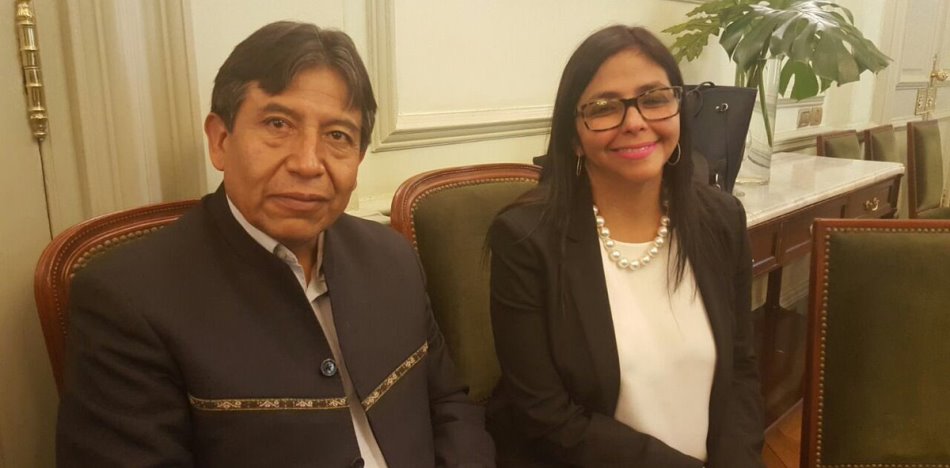 Venezuelan Foreign Minister Delcy Rodríguez arrived in Argentina to draw attention to Venezeula's suspension from the trade bloc Mercosur. When she was not allowed to enter the Mercosur meeting, she installed a microphone outside the building.
Rodríguez, standing at the building's entrance, railed that "Venezuela does not need an invitation because Venezuela holds the pro tempore presidency of Mercosur."
She told Mercosur member states to "jump through the window" of the meeting room to "defend the rights of their country."
"We will continue to hold the presidency pro tempore of Mercosur until conditions have been met for orderly transfer" she said.
Although she did not enter through the window, Rodríguez entered the headquarters of the Argentine Ministry of Foreign Affairs to attend the XI Extraordinary Meeting of the Common Market Council (CMC); However she entered the meeting room of the Mercosur without invitation and her colleagues did not interact with her.
The Venezuelan Foreign Minister took to her Twitter account to report what happened.
For his part, Brazilian Foreign Minister Jose Serra published on Twitter an image of the meeting between the foreign ministers of the Mercosur countries (without Venezuela and Bolivia), which was held in a different room from where the meeting was originally going to be held.
Venezuelan Foreign Minister Delcy Rodriguez arrived in Buenos Aires with her Bolivian counterpart, David Choquehuanca, to attend a meeting of Mercosur countries to which Paraguayan Foreign Minister Eladio Loizaga said she was not invited.
On Tuesday, December 13, Mercosur Venezuela's national coordinator, Héctor Constant, was not allowed to enter a meeting of the national coordinators of the Common Market Group. He was also banned from a meeting of Mercosur's technical team on Monday.
Rodríguez's will make up for her exclusion from Mercosur by meeting with representatives of the Kirchner Front for Victory and a visit to the Patria Institute, linked to the political movement led by former President Cristina Fernández de Kirchner (2007-2015), where she will hold a discussion with representatives of "Argentine political, social, and popular movements that support the government and the Bolivarian People."